Smartphones with NFC up to 10,000 rubles
Price: from 8,650 rubles online, 9,990 in retail.
Screen: 6.26 inches, IPS, 1520×720 px;
Processor: Spreadtrum SC9863;
Memory: 64/3 GB microSD up to 256 GB;
Camera: rear 13 2 MP, front 2 MP;
Battery: 3200 mAh, Micro-USB.
The rating of budget smartphones with NFC opens with an inexpensive solution from the Chinese company ZTE. The device is notable for its stylish design, a good amount of memory and the presence of a fingerprint scanner. But on this, by and large, the advantages of the V10 Vita end.
https://www.youtube.com/watch?v=upload
The cons begin. The case made of glossy plastic is beautiful, but extremely impractical, it intensively collects scratches and fingerprints – you will have to hide it in a case anyway. The processor from Spreadtrum is frankly weak, if you plan to spend your leisure time in mobile games – just by. The second drawback of the 28nm chipset is its high power consumption; with active use of the smartphone using Wi-Fi or LTE, it may well not survive until the evening.
№2 – Honor 8А
Price: from 7,450 rubles online, 8,990 in retail.
Screen: 6.1 inches, IPS, 1560×720 px;
Processor: Mediatek Helio P35;
Memory: 32/2 GB microSD up to 512 GB;
Camera: main 13 MP, front 8 MP;
Battery: 3020 mAh, Micro-USB.
Honor 8A is one of the cheapest smartphones with NFC on the market, if you do not consider devices from completely obscure manufacturers. In terms of characteristics, it differs slightly from the V10 Vita, but at the same time it costs less and outperforms its competitor in many important details.
The heart of the smartphone is the modern Helio P35 chipset, made according to the 12-nm process technology. Thanks to him, even with a modest battery capacity, the phone demonstrates decent autonomy – enough for a day, or even a day and a half on a single charge with moderate use. It has a nice screen and, perhaps, the best camera under 10 thousand rubles.
Price: from 7,990 rubles online and in retail.
Screen: 5.65 inches, IPS, 2160×1080 px;
Processor: Snapdragon 630;
Memory: 64/4 GB microSD up to 128 GB;
Camera: main 16 5 MP, front 5 MP;
Battery: 3050 mAh, USB Type-C.
Features: Dedicated DAC
Yandex. The phone made a lot of noise at the time of its release, mostly negative noise – everyone scolded it because of the inflated price, which at the start of sales was 17,990 rubles. Now the device has fallen in price more than twice, and for the money it is too good.
Judge for yourself: a stylish case made of glass and metal, a lot of memory, a vigorous processor from Qualcomm, a Type-C port, a scanner, Wi-Fi 5 GHz, high-quality sound (especially with headphones), a compact screen with FullHD resolution. Such a set of characteristics is not something comparable in price state employees cannot offer, but also most of the more expensive devices.
They scold Yandex. Phone for a mediocre camera, the lack of a notification indicator and not always reliable cellular network reception. Yandex is trying to compensate for these moments with bonuses and a bunch of subscriptions to almost all of its services, which are offered to users for the purchase of a branded phone.
What is an NFC module?
The full name of this technology is Near Field Communication and it is designed to quickly exchange data at minimum distances between devices. Thanks to this technology, a variety of data is transmitted, contactless payments are made, and NFC allows you to control the operation of certain devices.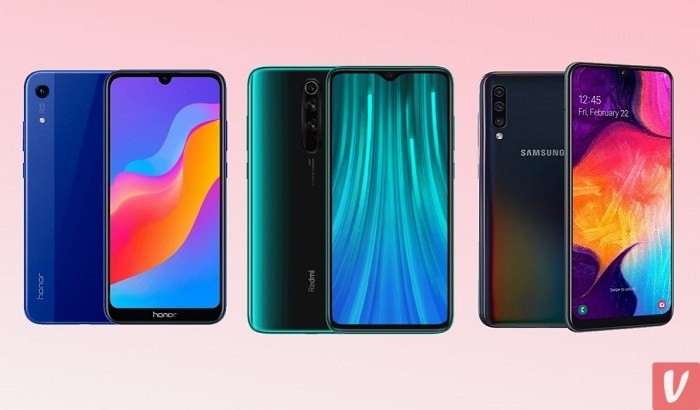 Most often, NFC is used in the area of ​​payment for purchases. A buyer who has a smartphone with NFC technology has the opportunity to digitally link his card to the device and use his phone to pay for purchases.
Buy NFC module on Aliexpress
It turns out that a smartphone equipped with an NFC module can be a full-fledged means of payment. Although the demand and popularity of this technology is constantly growing, it is still difficult to find an inexpensive smartphone with an NFC module. You can easily buy expensive gadgets and devices from the middle segment, but budget models are rare.
We offer you to get acquainted with the list of inexpensive devices that use NFC technology.
Smartphones with NFC up to 15,000 rubles
№3 – Honor 10i
https://www.youtube.com/watch?v=ytdevru
Price: from 13,990 rubles online, 15,990 in retail.
Screen: 6.21 inches, IPS, 2340×1080 px;
Processor: Kirin 710;
Memory: 128/4 GB microSD up to 512 GB;
Camera: main 24 8 2 MP, front 32 MP;
Battery: 3400 mAh, Micro USB.
We are expanding the budget a little and moving on to the best options up to 15 thousand rubles. One of the interesting solutions in this segment is Honor 10i, which is released in the Western market under the name Honor 20 Lite. The device is positioned as a smartphone for young people, who, according to the manufacturer, need a bright design with a gradient and overflows, a very high-resolution front camera and a lot of memory for storing photos.
Processor — 12nm Kirin 710, quite good in terms of performance, at medium settings it runs absolutely any games. There is also a triple main camera. In fact, there are only two useful modules, but not all competitors can boast of a wide-angle lens. Not without cons:
Price: from 13,490 rubles online, 16,990 in retail.
Screen: 6.59 inches, IPS, FullHD ;
Processor: Kirin 710;
Memory: 64/4 GB microSD up to 512 GB;
Camera: main 16 2 MP, front 16 MP;
Battery: 4000 mAh, MicroUSB.
Features: Pop-up front camera.
The huge, notch-less IPS display is ideal for gaming and watching videos, and the powerful battery allows you to enjoy the process for a very long time. On a single charge, the device gives out 8-9 hours of active screen and charges from 0 to 100% in 2 hours. Also, do not overestimate the camera, it is rather mediocre in P Smart Z. Otherwise, if you want to buy a phone with a trendy design for little money, it will not disappoint you.
Price: from 13,890 rubles online, 17,990 in retail.
Screen: 5.9 inches, SuperAMOLED, FullHD ;
Processor: Exynos 7904;
Memory: 64/4 GB microSD up to 512 GB;
Camera: main 16 5 MP, front 25 MP;
Battery: 3100 mAh, USB Type-C.
Here is the smallest device from the top budget smartphones with NFC. 5.9 inches – the diagonal is not small, but due to the very thin frames, the A40 turned out to be a really compact device, there are few of them now. In addition to NFC, it supports Samsung Pay technology based on MST, which allows you to make contactless payments on legacy terminals that do not work with Google Pay.
In terms of characteristics, this is a balanced device – smart, tenacious, despite the low battery capacity, at the end of the day, usually 20-25% of the charge remains, with a cool screen, a separate slot for a USB flash drive and a 3.5 mm jack. But the A40 has one important drawback, for which the manufacturer should be ashamed.
The smartphone lacks not only a notification indicator, but also the traditional Always On Display mode for AMOLED screens, which is found in other devices of the series. Thus, Samsung is trying to eliminate a serious competitor to older models, since the A40 is very good in terms of user qualities. You need to take it strictly online, a PCT phone with a guarantee can be bought for 14.5 thousand.
List of smartphones with NFC-module
Alcatel Pop S7 7045Y is the cheapest smartphone with NFC
Alcatel U5 HD and A7
Xiaomi Mi6
Xiaomi Mi5S
Xiaomi Mi Note 3
Xiaomi Mi Mix 2
Huawei Honor 9
Huawei Honor 6X
Huawei Honor 5C
Huawei P10 Lite
Huawei Nova 2
iPhone SE
iPhone 8
iPhone X
LG G6
LG V30
LG Q6 and Q6
LG X Venture
Lenovo P2
Samsung Galaxy Note 8
Samsung Galaxy S8
Samsung Galaxy J5 (2016)
Samsung Galaxy J7 (2017)
Samsung Galaxy A5 2017
Sony Xperia L1
Sony Xperia E5
Sony Xperia XA1
Nokia 3
Nokia 5
Nokia 6
Nokia 8
Asus ZenFone 4
Asus ZenFone 4 Pro.
Asus ZenFone 4AR
Blackview BV6000S
Blackview BV8000 Pro
Wileyfox Swift 2X
HTC Desire 530
HTC U Ultra
HTC U11 and U11 Plus
Google Pixel 2/2XL.
OnePlus 5/5T.
ZTE Nubia Z17 and Z17 mini
Moto G5s
AGM X2
BlackBerry Motion and KEYone
Samsung smartphones
These are representatives of the middle price category. Information about the cost was taken by us from the Internet portal Yandex. Market. It is interesting to note that at this stage of development, Samsung equips all of its smartphones with an NFC module. This contributes to the effective promotion of Samsung Pay's own payment system.
Nokia smartphones
Many of Nokia's new smartphones are also equipped with the previously introduced technology. Here are just some of the models available:
Nokia 3 – cost within 7,900 rubles. The smartphone is equipped with a 5-inch IPS display with a resolution of 1280×720 px. The device is based on the MediaTek MTK 6737 chip with 2 GB of RAM and 16 GB of storage memory. The shell is a polycarbonate body with an aluminum frame.
Nokia 5 – price on Yandex. The market reaches 11,000 rubles. The display of this device is 0.2 inches larger, the body is all aluminum, and the processor uses a Qualcomm Snapdragon 430. The RAM and storage are exactly the same, except that the storage can be expanded up to 128 GB.
Nokia 6 – the price is not more than 16,000 rubles. The screen size is 5.5 inches, the screen resolution is 1920×1280 pixels, the central chip is still the same Qualcomm Snapdragon 430, but the RAM is already 3 GB, and the storage memory is 32 GB.
Sony Smartphones
Pay attention to the very first model, which costs less than 8,000 rubles, but it is already equipped with such an important and useful function. In addition, it cannot be said that the device is deprived in some other respect. It has everything that a modern, not the most demanding user may need.
https://www.youtube.com/watch?v=ytcreatorsru
Also don't forget about Huawei/Honor smartphones:
Huawei P10 Lite – the price starts around 12,250 rubles. The model is equipped with a large display (5 inches; 1920×1080 pixels), excellent RAM and storage (3/32 GB) and the ability to quickly charge the device from the mains.
Honor 5C – the price starts from 8,950 rubles. The gadget is equipped with a display of the same size, but the memory size is slightly smaller (2 GB – RAM and 16 GB – storage). 3000 mAh rechargeable battery.
Honor 6X is a smartphone sold in two trim levels. One option is equipped with 3 GB (RAM) and 32 GB (storage memory) and it costs around 11,650 rubles, and the second option is equipped with 4 GB (RAM) and 32 GB (storage memory) and the price is slightly more – 12,140 rubles. The display is even larger than its predecessors (5.5 inches), and the battery capacity is 3340 mAh.
And the last smartphone is Wileyfox Swift 2X, which is evaluated on the Yandex. Market at 10,990 rubles. This gadget boasts an excellent display (5.2 inches with a resolution of 1920×1080 pixels), a powerful processor (Qualcomm Snapdragon 430) and 3 GB of RAM, as well as 32 GB of storage memory. An added bonus is the metal case and the user's fingerprint scanner.
Buy
We have to admit that the NFC module is a feature that is becoming more and more popular. This can be explained by the fact that in some way it makes modern life easier.
Smartphones with NFC up to 20,000 rubles
Price: from 15,200 rubles online, 19,990 in retail.
Screen: 6.15 inches, IPS, FullHD ;
Processor: Kirin 710;
Memory: 128/4 GB microSD up to 512 GB;
Camera: main 24 8 2 MP, front 32 MP;
Battery: 3340 mAh, Type-C.
Huawei Mate 30 Lite, like other versions of flagships with the Lite prefix, is seriously curtailed in comparison with its "big brothers". Characteristics, taking into account the price, are very modest here, the smartphone was created primarily to please the user's eye. Its case is made of tempered glass and metal, the build quality is at the highest level.
Huawei is famous for the cameras of its flagships, but the advanced minds of the Chinese have apparently bypassed the P30 Lite – during the day it takes relatively good pictures, but even the special night mode does not save in low light, the video quality frankly let us down. Also, the owners in the reviews often complain about a very slippery case that slides off smooth surfaces at the slightest tilt. These are the costs of a glass case – if you want practicality, buy a case. For some reason, it is not included in the smartphone package.
Price: from 14,990 rubles online, 18,990 in retail.
Screen: 6.4 inches, SuperAMOLED, FullHD ;
Processor: Exynos 9610;
Memory: 64/4 GB microSD up to 512 GB;
Camera: main 25 8 5 MP, front 25 MP;
Battery: 4000 mAh Type-C.
Features: In-screen fingerprint scanner.
Galaxy A50 is one of the best selling Samsung smartphones in 2019. The reason for the huge popularity of the model is the sudden generosity of the Koreans, who stuffed everything they could into an inexpensive smartphone in order to win back positions from the dominant Xiaomi and Huawei in this segment. The main feature of the A50 is the fingerprint scanner built into the screen – it looks cool and futuristic, but it does not work in the best way, it is rather slow and often makes mistakes. Alternatively, you can use the face recognition function, it is in order here.
Also, the A50 has rather average cameras, the pictures look great on the phone screen – bright, clear, with rich colors, but when you zoom in on the computer, you are involuntarily surprised by the "soapiness" of the picture. If you plan to post photos on Instagram and not engage in such nonsense, you won't notice the nuances.
№1 – Xiaomi Mi 9T
Price: from 19,290 rubles online, 25,990 in retail.
Screen: 6.39 inches, AMOLED, FullHD ;
Processor: Snapdragon 730;
Memory: 64/6 or 128/6 GB;
Camera: main 48 8 13 MP, front 20 MP;
Battery: 4000 mAh, Type-C.
Features: fingerprint scanner under the screen.
Another device that you need to buy strictly online, so as not to overpay almost 5 thousand in retail. In terms of price and features, this is the most profitable smartphone in the class, offering the user absolutely all the trendy features of 2019.
Compared to other representatives of the rating, Mi 9T has the most powerful processor and the best camera, which includes three modules at once with different focal lengths – standard, wide-angle and telephoto. This is one of the leaders in terms of autonomy, a 4000 mAh battery lasts for 8-9 hours of an active screen, and 18 W fast charging allows you to replenish its resources in less than an hour and a half.
Price: from 11,550 rubles online, 14,990 in retail.
Screen: 6.5 inches, IPS, FullHD ;
Processor: Kirin 710;
Storage: 64/4 GB microSD up to 512 GB;
Camera: main 20 2 MP, front 16 MP;
Battery: 3750 mAh, MicroUSB.
The more advanced smartphones become, the higher their performance margin and, accordingly, the longer their life cycle. That is why a very profitable solution is to buy models of past years, which have already reduced in price, but still have not lost their relevance. One of the best options to save money and get a cool smartphone right now is last year's bestseller from Honor.
The 8X is equipped with the same Kirin 710 processor as the previously reviewed Huawei / Honor models, but unlike the plastic P Smart Z and 10i, it is made in a chic glass and metal case. The impression is slightly spoiled by the outdated monobrow and the Micro-USB port, but for the money the device is still very good.
Price: from 15 thousand rubles for Aliexpress
Screen: 6.53 inches, IPS, FullHD ;
Processor: MediaTek Helio G90T;
Memory: 64/6 GB MicroSD;
Camera: main 64 8 2 2 MP, front 20 MP;
Battery: 4500 mAh Type-C.
After many years and countless devices, the world finally saw the first affordable Xiaomi phone with NFC. The first Note 8 Pro was not only in contactless payment, it also debuted a camera with a record resolution of 64 MP and the Helio G90T processor, which in terms of performance in tests is very close to the flagship chipsets of the previous generation.
The smartphone is destined to become a bestseller despite its hot temper (read more about heating problems in the RN8 Pro review), but so far it is only available in China in the version for the local market, without support for the Band 7 and 20 needed in Russia. If the purchase of a new phone is off, it makes sense to wait for the release of the novelty in Russia, this is one of the most interesting models in its class.
https://www.youtube.com/watch?v=ytpolicyandsafetyru
This is the end of the list. Write in the comments which inexpensive phone with NFC in your opinion is better to take, and what interesting models we have overlooked.