⇡#Specifications
Meizu M3 Note
LG X view
Lenovo VIBE P1
ASUS Zenfone 2 (ZE551ML)
Sony Xperia M5
Screen
5.5″, 1080 × 1920 dots, IPS; capacitive, up to ten simultaneous touches
4.93 inches, 720 × 1280 pixels, IPS; capacitive, up to ten simultaneous touches
5.5″, 1080 × 1920 dots, IPS; capacitive, up to ten simultaneous touches
5.5 inches, 1080 × 1920 dots, IPS; capacitive, up to ten simultaneous touches
5″ 1080 × 1920 dots IPS; capacitive, up to ten simultaneous touches
Additional screen
No
1.76 inches, 80 × 520 dots, IPS; capacitive, multi-touch, gesture support
No
No
No
Protective glass
Dinorex T2X-1, with oleophobic coating and polarizing filter
Yes (manufacturer unknown), with oleophobic coating and polarizing filter
Corning Gorilla Glass 3, with oleophobic coating and polarizing filter
Corning Gorilla Glass 3, with oleophobic coating and polarizing filter
Yes (manufacturer unknown), with oleophobic coating and polarizing filter
Processor
MediaTek MT6755 Helio P10: four ARM Cortex-A53 cores @ 1.0GHz four ARM Cortex-A53 cores @ 1.8GHz; manufacturing process: 28 nm
Qualcomm Snapdragon 410 MSM8916: four ARM Cortex-A53 cores, 1.21 GHz; manufacturing process: 28 nm
Qualcomm Snapdragon 615 MSM8939: quad-core ARM Cortex-A53, 1.11GHz; quad-core ARM Cortex-A53, 1.46GHz; manufacturing process: 28 nm LP
Intel Atom Z3580: four cores of Tangier architecture (x86-64), frequency 2.33 GHz; manufacturing process: 22 nm
MediaTek Helio X10 MT6795: eight cores ARM Cortex-A53, frequency 1.95 GHz; manufacturing process: 28 nm
Graphic controller
ARM Mali-T860MP2, frequency 600 MHz
Qualcomm Adreno 306, 400 MHz
Qualcomm Adreno 405, 550 MHz
Imagination Technologies PowerVR Rogue G6430, 533 MHz
Imagination Technologies PowerVR Rogue G6200, 500 MHz
RAM
2/3 GB LPDDR3 (we have a 2 GB version on test)
2 GB LPDDR3
2 GB LPDDR3
4 GB LPDDR3
3 GB LPDDR3
Flash memory
16/32 GB (we tested the 16 GB version; 11.1 GB are available to the user) microSD
16 GB (11.3 GB available to the user) microSD
32 GB (25.2 GB available to the user) microSD
32 GB (25.5 GB user available) microSD 5 GB ASUS WebStorage cloud storage
16 GB (10.9 GB available to the user) microSD
Connectors
1 × micro-USB 2.0
1 × micro-USB 2.0
1 × micro-USB 2.0
1 × micro-USB 2.0;
1 × micro-USB 2.0;
1 × 3.5mm headset jack
1 × 3.5mm headset jack
1 × 3.5mm headset jack
1 × 3.5mm headset jack;
1 × 3.5mm headset jack;
1 × Nano-SIM
1 × Nano-SIM
1 × microSD (SDHC/SDXC);
1 × microSD (SDHC/SDXC);
1 × microSD;
1 × Nano-SIM/microSD (universal)
1 × Nano-SIM/microSD (universal)
2 × Nano-SIM
2 × Micro-SIM
1 × Nano-SIM
SIM cards
Dual Nano-SIM
Dual Nano-SIM
Dual nano-SIM
Two micro-SIM cards
One nano-SIM (there is a version with dual SIM and LTE support)
Cellular 2G
GSM/GPRS/EDGE 850/900/1800/1900 MHz
GSM/GPRS/EDGE 850/900/1800/1900 MHz
GSM/GPRS/EDGE 850/900/1800/1900 MHz
GSM/GPRS/EDGE 850/900/1800/1900 MHz
GSM/GPRS/EDGE 850/900/1800/1900 MHz
Cellular 3G
DC-HSPA (42 Mbps) 850/900/1900/2100 MHz
DC-HSPA (42 Mbps) 850/900/1900/2100 MHz
DC-HSPA (42 Mbps) 850/900/1900/2100 MHz
DC-HSPA (42 Mbps) 850/900/1900/2100 MHz
DC-HSPA (42 Mbps) 850/900/1900/2100 MHz
Cellular 4G
LTE Cat; 6 (300Mbps, 50Mbps);
LTE Cat. 4 (150 Mbps, 50 Mbps);
LTE Cat. 4 (150 Mbps, 50 Mbps);
LTE Cat. 4 (150 Mbps, 50 Mbps);
LTE Cat. 4 (150 Mbps, 50 Mbps);
FDD LTE: band 1, 3, 7, 38, 39, 40, 41
FDD LTE: band 1, 3, 7, 8, 20
FDD LTE: band 1, 3, 7, 20;
TDD LTE: band 40
FDD LTE: band 1, 2, 3, 4, 5, 7, 8, 9, 17, 18, 19, 20, 28, 29;
TDD LTE: 38, 39, 40, 41
FDD LTE: band 1, 3, 5, 7, 8, 20
WiFi
802.11a/b/g/n 2.4/5GHz Wi-Fi Direct
802.11b/g/n, 2.4GHz Wi-Fi Direct
802.11a/b/g/n 2.4/5GHz Wi-Fi Direct
802.11a/b/g/n 2.4/5GHz Wi-Fi Direct
802.11a/b/g/n 2.4/5GHz Wi-Fi Direct
Bluetooth
4
4.1
4.1
4
4.1
NFC
No
No
Yes
Yes
Yes
Infrared
No
No
No
No
No
Navigation
GPS, A-GPS, GLONASS
GPS, A-GPS, GLONASS, BeiDou
GPS, A-GPS, GLONASS, BeiDou
GPS, A-GPS, GLONASS
GPS, A-GPS, GLONASS, BeiDou
Sensors
Light, proximity, accelerometer/gyroscope, magnetometer (digital compass), pedometer
Illumination, proximity, accelerometer/gyroscope, magnetometer (digital compass)
Illumination, proximity, accelerometer/gyroscope, magnetometer (digital compass)
Illumination, proximity, accelerometer/gyroscope, magnetometer (digital compass)
Approximation, accelerometer/gyroscope, magnetometer (digital compass)
Fingerprint scanner
Yes
No
Yes
No
No
Main camera
13 MP (4160 × 3120), f/2.2 aperture, autofocus, dual LED flash
13 MP (4160 × 3120), f/2.2 aperture, autofocus, single LED flash
13 MP (4160 × 3120), f/2.2 aperture, autofocus, OIS, Dual LED flash
12.6 MP (4096 × 3072), PixelMaster, f/2.0 aperture, autofocus, LED flash
21.2 MP (5312 × 3984) back-illuminated Sony Exmor Rs sensor; hybrid autofocus, LED flash
Front camera
5 MP (2592 × 1944), no autofocus, no flash
8 MP (3264 × 2448), no autofocus, no flash
5 MP (2592 × 1944), no autofocus, no flash
4.9 MP (2560 × 1920), no autofocus, no flash
12.6 MP (4096 × 3072), autofocus, no flash
Food
Non-removable battery: 15.58Wh (4100mAh, 3.8V)
Non-removable battery: 8.74 Wh (2300 mAh, 3.8 V)
Non-removable battery: 19Wh (5000mAh, 3.8V)
Non-removable battery: 11.4 Wh (3000 mAh, 3.8 V)
Non-removable battery: 9.88Wh (2600mAh, 3.8V)
Size
153 × 75 × 8.2 mm
142 × 72 × 7.1 mm
153 × 75 × 9.9 mm
152 × 77 × 10.9 mm
145 × 72 × 7.6 mm
Weight
163 g
120 g
189 g
170 g
143 g
Protection against water and dust
No
No
No
No
IP65 and IP68 (up to half an hour in fresh water at a depth of up to one and a half meters)
Operating system
Android 6.0 Marshmallow, Meizu Flyme UI custom skin
Android 6.0 Marshmallow, LG's own skin
Android 5.1.1 Lollipop, Lenovo's own skin
Android 5.0 Lollipop, ASUS ZenUI Skin
Android 5.0 Lollipop, Sony's own skin
Current price
16,990 rubles for the 16 GB version; 18,990 rubles for the 32 GB version
17,990 rubles
19 990 rubles
23 490 rubles
27,790 rubles
Meizu M3 Note – system and hardware information according to Appendix C PU-Z
Meizu plans to resume production of smartphones with NFC
Last week it became known that the main reason for the Motorola event on August 15 will be the new line of Moto P30 smartphones; Initially, it will include three smartphones: Moto P30 Note with 4 or 6 GB of RAM and 64 GB of storage, Moto P30 Play with 4 GB of RAM and 64 GB of ROM, and Moto P30 with 6 GB of RAM and 64/128 GB of internal memory.
According to a fresh teaser, a 5,000 mAh battery will be installed inside the Moto P30. Android One can act as a preinstalled operating system.
Expected price of Moto P30 in China:
Moto P30 6 64 GB — $300;
Moto P30 6 128 GB – $350;
Moto P30 Note 6 64 GB – $335;
Moto P30 Play — $260.
As you know, since 2017, not a single new model with an NFC module has appeared in the series of Meizu smartphones. The list of devices with an NFC module can be counted on the fingers of one hand: MX3, MX4 Pro, Pro 5, Pro 6 Plus. This is largely due to the low prevalence of NFC in China, which the company is focused on in the first place.
The head of the company, Huang Zhang, hinted that the possibility of contactless payments via NFC will reappear in future Meizu smartphones, but did not specify when the first such device should be expected. The brand's latest addition is the 16th flagship, and another mid-range smartphone could debut in September.
Let's start with the devices of the South Korean manufacturer, which is actively developing its own payment system Samsung Pay and offers NFC not only in flagship devices. The most affordable gadget is the Galaxy J5 (2017) with a price of 16,000 rubles.
List of Samsung smartphones with NFC:
Galaxy S8/S8 .
Galaxy Note 8.
Galaxy A3, A5, A7 (2017).
Galaxy J5 and J7 (2017).
Galaxy C5 Pro and C7 Pro.
Galaxy A8/A8 Plus.
Galaxy S9/S9 (updated).
Galaxy Note 9.
Galaxy A6 and A6 (2018).
Galaxy J4 , J6 .
Galaxy A7 (2018).
⇡#Appearance, ergonomics, fingerprint scanner
Perhaps, one of the main advantages of Meizu M3 Note can be safely considered an anodized aluminum-magnesium alloy case. So far, this is rare for smartphones priced below 20 thousand rubles. A solid bar of aluminum causes a pleasant tactile sensation. But it still could not do without plastic at all – the upper and lower edges are covered with it, this is necessary for the correct operation of the radio modules and does not affect the perception of the device in any way. The corners of the case and the side edges are here with a large radius of curvature – in case of an unsuccessful grip, they do not dig into the hand.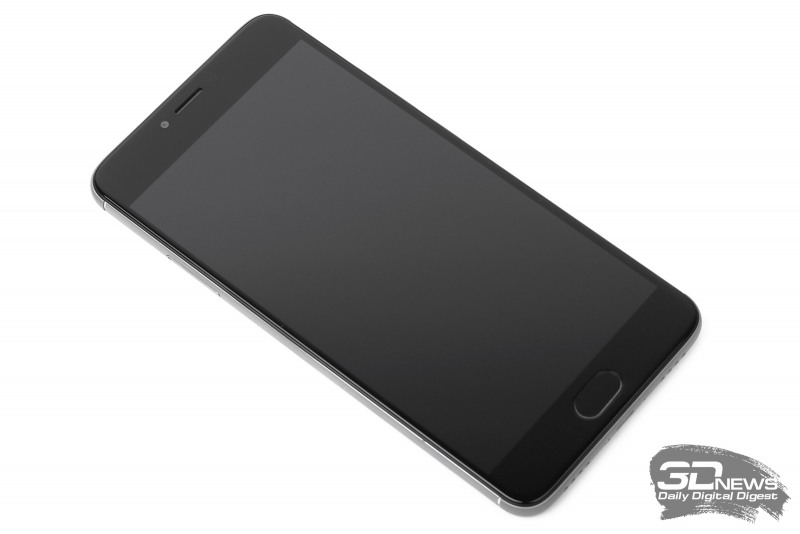 Meizu M3 Note – front panel
The smartphone turned out to be quite large due to the 5.5-inch display, which occupies the main area of ​​the front panel. In the male palm, the device lies perfectly, but for fragile female palms it can be somewhat large – however, this is true for any gadget with a screen of a similar diagonal.
Under the screen, the M3 Note has an oblong hardware key to return to the main screen. At the same time, there are no two touch keys "Back" and "Open Applications Menu" usually present in Android smartphones – this is typical for Meizu, you will have to get used to it. A fingerprint sensor is integrated into the key here.
Meizu M3 Note – central key with fingerprint scanner
The role of the fingerprint sensor here is played by Meizu's own module – mTouch 2.1. According to the manufacturer, he can "read" the fingerprint in just 0.2 seconds. We are not able to confirm this figure by means of our test laboratory; we can only say that the M3 Note's fingerprint scanner works really quickly and accurately – during testing it practically did not make mistakes.
Meizu M3 Note – work with fingerprint scanner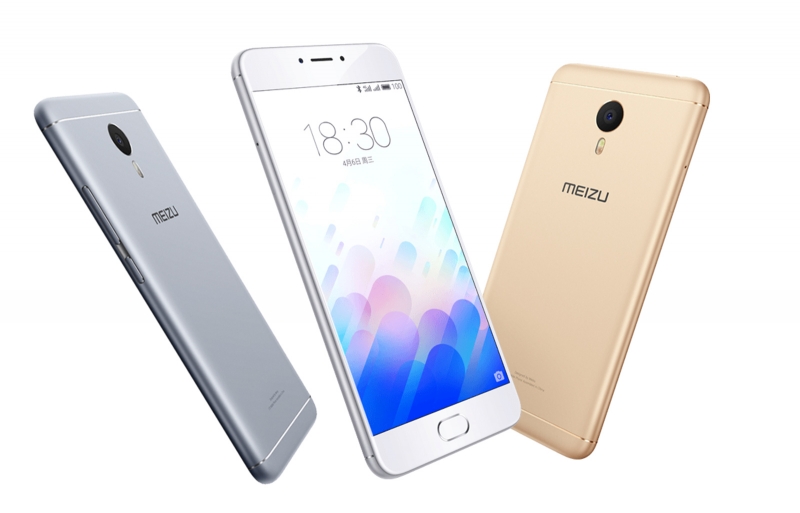 Apart from the feature mentioned above, the location of the hardware keys on the device is quite standard: the power and volume buttons are placed on the right side, while on the opposite side there are slots for nano-SIM and nano-SIM / microSD, hidden under a pin lock . On the top is the audio jack, on the bottom is the micro-USB interface. Next to the latter are symmetrical slots for an external speaker.
Meizu M3 Note – location of connectors and interfaces
Meizu M3 Note is a rather massive and weighty smartphone. The thickness of its case is 8.2 millimeters, and it weighs 163 grams – many competitors are a dozen or two grams lighter.
Meizu M3 Note – side
On the back of the device is a rather large lens of the main 13-megapixel camera. Below it is a dual LED flash. In Russia, the device is available in gray and silver colors.
⇡#Display
The resolution of the 5.5-inch Meizu M3 Note screen is standard – Full HD, 1920 × 1080 pixels. This is enough to provide a fairly high pixel density of 400.5 dpi. There is no pixelation effect, watching movies and photos on the M3 Note screen is comfortable, as well as reading; contributes to this as a diagonal and resolution.
The screen is made using LTPS technology, which is used for most IPS matrices used on high-end smartphones. Its viewing angles are quite wide – the contrast drops slightly, the colors are distorted minimally. Looking at the display together is quite comfortable. The touch layer is responsive, it responds quickly and accurately to touch, supports up to ten simultaneous clicks and easily detects gestures. The device can be used with loose gloves – the sensitivity of the touch layer allows.
The manufacturer claims that the maximum screen brightness of Meizu M3 Note is 450 nits. According to our measurements, the smartphone showed 422 cd / m2, which is close to the declared value. This is a fairly decent margin of brightness, the device can be used in direct sunlight. Of course, there is all the necessary set of a polarizing filter, an oleophobic coating, and, of course, there is no air gap between the matrix and the glass.
The M3 Note's static contrast ratio is not very high at 949:1. At close to the maximum brightness values, the black color noticeably loses depth and becomes dark gray.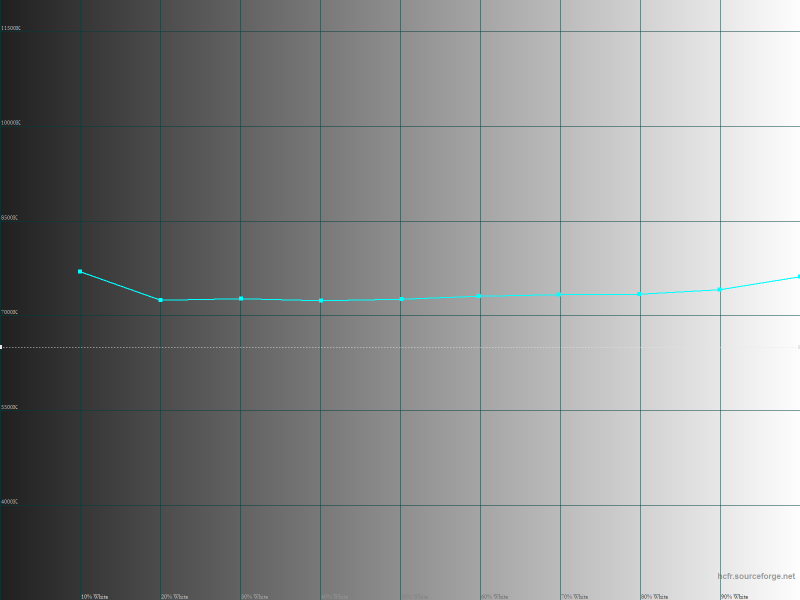 Meizu M3 Note – grayscale color temperature
The white balance of the Meizu M3 Note screen is set up very well. The color temperature of grayscale is an average of 7250 K with a reference value of 6500 K. The difference is completely insignificant, you can safely close your eyes to it. For perfectionists, it is possible to manually adjust the color temperature in the settings.
Meizu M3 Note – display settings
The color rendition of the display is generally correct: all gamma curves – both gray and color components – are close to the standard. The exception is a slightly raised blue spectrum. However, this is not at all critical.
 

Meizu M3 Note – grayscale gamma curve (left) and gamma curves of color components (right) compared to the reference gamma curve (indicated by a dotted line in the graphs)
The color gamut of the screen is slightly different from the reference sRGB color space.
The blue color at maximum brightness tends a little to purple, green – to light green, and red – to reddish. However, only a special device sees this. "By eye" it seems that everything is in order – the deviation is insignificant. The display of the smartphone as a whole is set up very well.
OPPO F9 shown live
Last week, all the details and official renderings of the new OPPO F9 frameless smartphone with a dual main camera and an unusual screen design leaked to the network. Today, insiders presented the first "live" pictures of the F9, the announcement of which will take place in just 2 days.
The smartphone will receive a physical fingerprint scanner on the rear panel. The case will be available in at least two colors: red and blue.
OPPO F9 will get a 6.3-inch Full HD screen with a round cutout in the center of the top edge for a selfie camera. Hidden inside is a 2.0GHz MediaTek Helio P60 octa-core processor paired with an ARM Mali-G72 MP3 graphics accelerator, 4 64 and 6 64 GB of RAM and internal memory.
There is a 162MP dual main camera on the back. The aperture of the main module is f/1.85. On the front is a single 25MP front camera with f/2.0 aperture.
Like OPPO R17, F9 will be equipped with a 3500 mAh battery with support for VOOC fast charging. The device will be presented on August 15. The expected cost is $365.
According to rumors, Intel plans to introduce the ninth generation of processors on October 1st. The release of 10nm Cannon Lake chips has been delayed until 2019, and this year the company will release improved solutions based on the 14nm process technology.
In total, three lines will be presented: Core i9, i7 and i5. The top-end Intel Core i9-9900K processor will receive eight cores and 16 threads, a 16 MB third-level cache, Intel UHD 620 graphics. The Core i7 and Core i5 processors will lose their multi-threading function and will acquire eight and six cores, respectively.
Huawei Mate 20 Lite will be presented in August
Huawei will launch its flagship Mate 20 line of smartphones this fall, which will include the Mate 20 and Mate 20 Pro flagships with triple cameras. However, this month the company will introduce a lightweight model Mate 20 Lite, as described by the resource Winfuture.de. The device will debut in black and gold colors.
Mate 20 Lite will receive a cutout in the screen, a dual vertical camera of 24 and 2 MP, a fingerprint scanner under it. The front has a 6.3-inch screen with a resolution of 2340×1080 pixels, a Kirin 710 processor, 6 GB of RAM and 64 GB of expandable internal memory.
Two cameras are also installed on the front – 24 and 2 megapixels. Responsible for autonomy is a battery with a capacity of 3,650 mAh. Mate 20 Lite runs on Android 8.1 Oreo. The smartphone can be presented as early as this month, and sales will start before the end of summer at a price of about $400 per device. In China, it will be called Huawei Maimang 7.
⇡#Communication and wireless interfaces
The smartphone can work with two SIM-cards. But, as is often the case, there is no separate slot for the second SIM card – only a combined slot for microSD / nano-SIM. That is, the user will have to choose: either additional gigabytes, or flexibility in communication tariffs. This imposes some restrictions – of course, I would like to see a full-fledged three slots for all cards in the device.
And whether they will be useful to the end user or not is a secondary question. Talking on Meizu M3 Note is quite comfortable: we have no complaints about the quality of cellular signal reception. The speaker has a decent volume margin – the interlocutor can be heard well even in noisy places. The device supports LTE Cat. 6 – the maximum theoretical data reception speed via the mobile Internet is 300 Mbps, upload – 50 Mbps.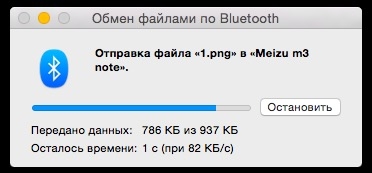 Meizu M3 Note – Bluetooth File Transfer from MacBook Air to Smartphone
The device has Bluetooth and Wi-Fi modules, but, as happens regularly with Chinese gadgets, there is no NFC. Not to mention the infrared port. And if the latter is not due to him by status, then support for Near Field Communication should be here – this is a critical drawback. The existing modules work quite stably, without failures.
 

Meizu M3 Note – AndroiTS GPS Outdoor Test results
The device navigates the terrain quite quickly. The device has a radio module that can communicate with GPS satellites (with A-GPS support) and GLONASS. A few seconds after the launch of the profile test, the device detected 10-11 satellites of two navigation systems in total and was guided by 8-9 of them. At the same time, the navigation error radius was quite insignificant – about four meters.
⇡#Camera
The set of cameras in the device is quite expected for a smartphone of this class. The front camera here is a five-megapixel one, without autofocus and flash. Nevertheless, it is notable for its relatively fast lens – f / 2.0. Thanks to this, you can take selfies and talk with videos even in a not very well-lit room.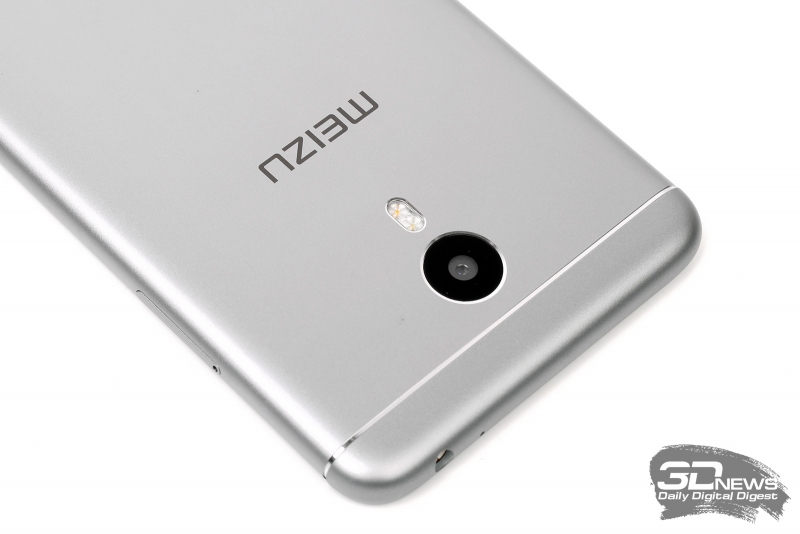 Meizu M3 Note – main camera
Rear camera in Meizu M3 Note with 13-megapixel sensor. It is equipped with an auto focus system and dual-LED flash to help avoid "corpse" skin tones when shooting in the dark. The lens here is a five-element lens with a maximum aperture of f/2.2. The front element of the lens is covered with Corning Gorilla Glass 3.
1.jpgView all images (8)2.jpg3.jpg4.jpg5.jpg6.jpg7.jpg8.jpgView all images (8)
To be honest, there is nothing to praise the main camera of the M3 Note, just as there is nothing to scold it for – a completely typical mobile smartphone camera for 20 thousand rubles without claims for something more. In daylight, it allows you to make good photos: with decent sharpness, natural colors and good micro-contrast.
But if you study the pictures in more detail, you will notice that the level of detail drops sharply towards the edges of the photos. Under artificial lighting, the picture loses a lot in color reproduction and contrast, and detailing also suffers. The device can record video in Full HD format – there is no support for shooting in 4K resolution.
What to do if Android Pay does not work on Meizu Pro 6 Plus
In fact, with the seeming variety of options for possible reasons due to which this trouble arises, there are only two main ones, namely:
Meizu devices are handed over to users with pre-installed root rights, which is contrary to Google principles;
in addition, all the same smartphones run their own operating system, which the developers from Google consider to be a stolen or copied version of Android.
An important advantage of Meizu M3 Note is the presence of a rather "fat", if I may say so, battery. The smartphone has a battery as much as 15.58 Wh (4100 mAh, 3.8 V). No wonder that the device consistently survived until the end of the working day during testing, and there was still 20-40% of the charge, depending on the intensity of use.
With moderate activity, the gadget is able to work away from the outlet for two days. At the same time, a full charge cycle using the supplied charger takes approximately three and a half hours. You can extend the life of the battery by customizing the energy-saving algorithms – there are quite a few of them in Flyme OS.
 
 
 
Meizu M3 Note – Power Saving Options
In continuous playback of HD-video from the internal memory, at maximum display brightness, with an active Wi-Fi connection and data updating in the background, the device worked for more than ten hours! The result is excellent. Meizu M3 Note batteries are enough to watch your favorite series episode by episode during a long flight, without even being distracted by lunch.
⇡#Conclusion
Meizu M3 Note is a very good, but not uncontested device. It fits in well with the Meizu concept, which offers not only a serious set of features for relatively little money, as we are already used to with Chinese smartphones, but also workmanship. Metal case, 2.5D glass, neat design, fast shell – yes, the device has very serious competitors in the face of the same Honor or Huawei, but Meizu offers a very adequate alternative.
Features of Meizu M3 Note:
anodized magnesium-aluminum alloy body, nice design;
the presence of a fingerprint scanner with the ability to restrict access to files;
the ability to work with two SIM-cards;
long battery life;
nice and well-optimized Flyme OS software shell.
https://www.youtube.com/watch?v=https:tv.youtube.com
Disadvantages of Meizu M3 Note:
case dimensions could be slightly smaller;
lack of a separate slot for the second SIM;
no Near Field Communication (NFC);
average main camera.