Create QIWI wallet (video)
In order to register or otherwise create your personal account in the Qiwi payment system, you need to perform several steps. This article describes one way to register, using the official Qiwi website, but you can also create a personal account in the Qiwi salon, terminal and many other ways! You can read about them at the link.
Step by step instructions for registering an account
How to enter the personal account of Qiwi wallet through the mobile application?
Owners of less popular smartphones, as well as fans of other gadgets – tablets or communicators, can register through the mobile application.
For each operation in the Qiwi mobile application, the system provides a function to check the security of transactions – a verification SMS is sent to the user's phone number. Without this function, an attacker will not be able to get into the Qiwi wallet. To authorize in the application, you need not only a phone number, but also a special PIN code.
To change the account protection settings, you should go to the official website of the payment system and use the security settings in the "Settings" menu item.
You can open an account on a qiwi wallet in a few minutes. For this you need:
Internet connection;
Any gadget (mobile phone, PC, tablet, laptop).
Let's consider in more detail how to open a Qiwi wallet via the Internet, as well as in the absence of a connection to the World Wide Web.
We note right away that you can get a Qiwi wallet for free from any device. The payment service does not charge money for registration at all. This helps to attract a large number of users who wish to create a Qiwi Valet wallet.
If you act through the official website, the question of how to get a Qiwi wallet for free can be solved in just a couple of minutes. You just need to select the item for creating a wallet, which is present on the main page, and then go to the registration section.
The user opens a special form, where he will need to enter the active phone number in a special standard format 7 XXX XX XX. It is also mandatory to indicate a number indicating protection from numerous bots. Be sure to check the box confirming consent to the processing of data and consent to the terms of the pre-executed contract.
Before working and using the wallet, you need to make sure that there is a standard access to the network. The process of official registration from the resource is carried out according to the following simple and understandable scheme:
You need to go to the Qiwi portal.
The button in the very top right corner is pressed indicating "Create Wallet".
The section indicates the phone and you need to confirm that the user is not a robot.
The system automatically checks the number, sends the code, which will need to be indicated in the window.
It is required to come up with a strong password and enter it into the form twice.
After completing the basic manipulations, you need to go to your account to check the success of the registration.
To start your personal Qiwi payment processor through the network, you do not need to have special knowledge, everything is very clear and understandable.
If necessary, Qiwi registration can also be carried out through the terminal. This is an ideal opportunity to quickly make the necessary financial transaction if the wallet has not been opened before. The registration process in the Qiwi payment system does not require any fee, you do not need to spend a lot of time and effort. It is enough first of all to go to the nearest terminal and then follow the instructions:
In the main menu, select "Top up your wallet" and immediately enter your personal phone number;
The system will let you know that the number is incorrect or simply has not been registered before. You will be automatically prompted to register;
After opening a special dialog box, you need to register in it;
A consent and confirmation code is sent to the phone, it will need to be dialed in a special box;
After automatic creation, you will need to come up with a fairly complex password, on which the registration is completed.
It is permissible to register Qiwi quickly and simply using a standard terminal, of which there are quite a lot on the territory of the Russian Federation. This type of registration does not present any difficulties, even a novice Internet user is able to solve this issue. In modern shopping centers, you can often find such devices in which you just need to find a special tab, after which a special window will open where a cell phone will be entered. After that, a special SMS will be sent to the phone, which serves as the main password for logging in.
The advantages of making payments in this system are obvious:
There is no need to get a bank card and pay for the service.
No personal information is required to make a purchase.
The virtual wallet cannot be stolen or lost.
Simple Qiwi registration, accessible even to inexperienced computer users.
The ability to easily deposit and withdraw funds with a small commission or even for free.
A wide range of payments: utilities, fines, bank loans, online games and more.
The ability to open a Qiwi wallet from a computer, from a mobile phone or through a terminal.
Qiwi personal account features
In addition to the options described above, you can use one more. It is ideal for users who use a PC quite actively. To register a new electronic wallet, you will need to perform the following sequence of operations:
You will need to find the official Qiwi website in the browser.
In the field for entering a telephone number, you will need to enter a personal valid number.
After that, a special code will come for logging in. You just need to enter it into the application.
A password is being generated to log in.
After completing these steps, the wallet is completely ready for use. All payment transactions with the wallet can be carried out not only on the website from a PC, but also by downloading a special application.
Using the application is quite convenient, it allows you to pay various bills, as well as make payments for purchases, and in most cases without any commission.
If you have any questions – let us know Ask a question
It is not difficult to register a Qiwi wallet on the official website in the payment system. It is no less easy to make various transfers, payments, replenish and withdraw funds in the desired currency. There are no difficulties to start using the most convenient mutual settlements, as well as to pay for services directly from your computer.
To enter the personal account of Qiwi wallet from a PC, you need access to the Internet and a program for downloading web pages (browser). Also, the wallet data for entering: the phone number to which the wallet was registered, and the password for entering the personal account specified during registration.
Step by step instruction:
Start your personal computer
Launch any available browser like Google Chrome

Open the search engine (usually it is already included in the home page of your browser),

enter Qiwi

, press "Search"

Click on first link in search

On the Qiwi wallet website, click "Login"


Enter mobile phone, password

, click "Login"

You will find yourself in your personal Qiwi wallet account!

If you do not have access to the Internet, then you can go to your Qiwi Wallet personal account using a proprietary payment terminal.
Step by step instructions
Find the nearest Qiwi terminal, for example at

online map at this link

In the terminal, click "Qiwi Wallet"

In the menu for selecting actions, click "Login"


Enter registered mobile phone number

in Qiwi system, press "Next"
To the specified number will come

access code, enter it

and click Next
Now you are in your Qiwi account, you can top up your balance, pay for services and much more!
Benefits of registering in a Qiwi wallet
Why is it better to have a wallet in Visa QIWI Wallet? In some other payment systems, the user needs to make a request for various kinds of certificates. They are required for operations. Initially, you can only transfer money between accounts of this electronic money only.
To send funds to the bank, you will need a certificate, for which you need to send a scan of your passport or other documents. You don't have to do this in Qiwi. You have all the features of the service immediately after creating a wallet.
Notes
One of the main advantages of the Qiwi wallet is its availability. Today, anyone can go through the process of free registration in the payment system, since there are several ways to do this. It is possible to create a Qiwi wallet for free from the following devices:
from a desktop computer;
from Visa Qiwi Wallet payment terminal;
from a mobile phone.
The last method is the most preferable for many, because the smartphone is always at hand, and the registration process itself is simple and does not take much time. In addition, the official Visa Qiwi Wallet mobile application is available for various mobile platforms, including the most current ones – iOS and Android.
Possible problems and solutions
Any payment system is not perfect, some have a well-functioning interface, others have modern security. Every system has problems. They are related to the human factor, popular questions from users are collected below, and short answers to them, of course, many issues are resolved only with the technical support service, so if you did not find the right question, contact technical support.
What should I do if I forgot my password?
When entering the personal account, click "Remind", enter the mobile phone number, click "Continue". If you specified your Email in the settings, then you will receive an automatic email with password recovery, follow the link, enter a new password, it is important that it does not match the old one. Duplicate the new password and click "Continue", the password will be changed and you can log into Qiwi again.
At the entrance there is a constant download and Qiwi does not open, what should I do?
In the QIwi payment service, technical work is often carried out, the wallet can be disabled for an hour or two, in some cases the period reaches 2-3 days. Therefore, just wait for the wallet to resume working.
When you enter your wallet, an inscription appears below: "Your wallet is blocked", what should I do?
Write to technical support, which will help you solve the current situation. Usually, wallets are blocked due to exceeding the limit, or high activity, if you did not conduct illegal transactions, then most likely, immediately after contacting support, your wallet will be unblocked.
I don't receive SMS from Qiwi, what should I do?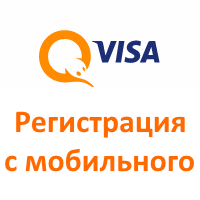 Check if the dialed number is correct if you are registering., and wait for SMS with confirmation code. But basically, when the servers are busy, SMS may not arrive until half an hour, you just have to wait.
History of Qiwi Wallet
In 2007, the largest service in Europe, Webmoney, and an analogue from the USA, PayPal, limited the possibilities of conducting transactions for residents of the CIS countries. As a result, it became necessary to create our own electronic money system. So, Qiwi appeared, which was originally available only in self-service terminals.
But in a short time, the developers increased the capabilities of this service, making it an electronic wallet. A year after the launch of the project, a unified user support service appeared, which operates around the clock. If you have problems registering a Qiwi wallet or have other questions, you can always get help from the support service.
So we come to the main issue. You can register in Qiwi Wallet on the official website of the service. If you don't know how to enter it in the address bar, just enter the phrase "qiwi wallet registration" in any search engine.
There are three ways to start your own electronic money:
Through an Internet browser on the website
Using an app on a mobile device
Through the terminal.