How to sign up for Samsung Pay
To use the payment system, you need to download the Samsung Pay app from Google Play. After installation, you can sign in to the app with your Samsung account and select the verification method – fingerprint or password.
Adding cards to the app is just as easy:
In the Samsung Pay app, tap the " " button;
Take a photo of the card from both sides or enter the data yourself;
Accept the user agreement and confirm the registration of the card with the password sent via SMS from the bank;
Create a signature – it should be the same as when making a card. The signature can be drawn with a stylus or a finger.
https://www.youtube.com/watch?v=ETdpdJwrVUw
The signature may be needed by the seller for verification.
After that, the card can be used in all stores that accept cashless payments.
What devices does Samsung Pay work on?
Modern Samsung smartphones allow you to pay for purchases in the same way as you pay for them with a regular bank card. To do this, you need to add your bank card to the Samsung Pay service on your smartphone. After that, you can pay with your smartphone in the same way as with a contactless bank card. For payment you need:
Bring the smartphone to the terminal;
Put your finger on the fingerprint scanner on your phone;
Wait for the operation to be completed;
You do not need to ask the seller for a special terminal or notify the seller that you will pay by phone. If the terminal supports contactless payments or magnetic tape, feel free to bring your phone to pay. No preparatory action is required. To confirm the payment, you can use not only a fingerprint, but also a pre-set PIN code. Using a fingerprint is much faster, as it does not require you to do anything other than having your finger on the fingerprint scanner.
You can pay for a purchase with a smartphone if you have the following gadget models:
Galaxy S7 edge
Galaxy S6 edge
Galaxy Note5
Galaxy A5
Galaxy A7
As well as smart watch Samsung Gear s3
If you are a happy owner of one of these smartphones, then Samsung Pay is at your service. It remains only to update the firmware of the device to the latest version.
After updating the update, you should select the mode of adding "plastic" or take a photo of the card with automatic recognition of the digital code. The easiest option is to enter numbers manually.
Having filled in the fields with the name and surname, expiration date and a three-digit verification code on the back of the credit card, we draw a personal signature with a finger in a special window, such as on a card. The smart gadget contacts the database of your bank, checking the relevance of the information. If the check is successful, the map appears on the screen. Its appearance is the same as in reality, including background images.
From now on, the virtual card is in combat readiness, the edge of the "plastic" is visible at the bottom of the screen. You can call the card to pay for purchases with a swipe, from bottom to top. The service settings help to set a default credit card, if there are several of them, as well as a type of payment protection – a fingerprint or a pin code. It is safest to choose the first option.
A special module is built into the smartphone, which allows data transfer at a distance of several tenths of a meter. Allowing the purchase, you bring the gadget to the terminal, and that's it. The further process is the business of the bank, you have nothing to delve into it. The main thing is that it is ultra-safe and extremely fast. A few fractions of a second – the purchase is made, you are happy to go home.
How to use Samsung Pay
You can use the Samsung Pay payment system both with new terminals that support contactless payment, and with old ones that work by swiping a card. In any case, try to unlock your phone in advance and log in to the application so as not to waste time next to the terminal.
Contactless payment terminals support Mastercard Pay Pass and Visa Pay Wave technologies – you can recognize them by the corporate logo. Notify the seller that you want to pay for the purchase with a card, then put your smartphone on the terminal screen and confirm the payment with a code or fingerprint. Wait for the beep and the release of the check.
If the terminal does not have any identifying signs of contactless payment technology, MST technology comes into play, imitating the field of the magnetic tape of a plastic card. To use it, put your smartphone on the side of the terminal where the magnetic tape reader is located – and in a few seconds the purchase will be paid.
Gear S3 users can also use the app. To do this, you need to update the Gear S3 app and follow the instructions to add a map to your watch. After that, the card linked to the watch can be used – to do this, you need to press the "Back" button on the watch and bring it to the terminal.
Samsung Pay Security
This payment method, according to the developers themselves and the user experience, is convenient and completely safe. When paying with a plastic card, you give the terminal a PIN-code from which scammers can intercept. However, you do not need to transfer any card information to pay with a card registered with Samsung Pay.
The fact is that the application exchanges a token with the terminal – a one-time key generated for each new payment transaction. Even if the attackers succeed in intercepting the token, they will not be able to use it – the "expiration date" of the old key will already expire by the time of your next purchase.
In addition, the NFC model that allows contactless payments does not work if the smartphone is locked, so it is impossible to steal funds from a card linked to the phone.
If your phone is lost or stolen, no one but you can use Samsung Pay, as app and payment authorization requires a fingerprint or PIN. In addition, you can always lock your phone or completely delete information from it using the Find My Phone application. Also, all information on Samsung smartphones is recorded in the containers of the Samsung Knox application.
Samsung Pay Security
Rumors about the risks of using Samsung Pay as a contactless payment method are spread by people who, as a rule, do not have such smartphones. Especially ridiculous are the speculations about double debits and scammers with "hacker devices". Nonsense, pure water, from unenlightened people.
Even if your smartphone is stolen or lost, no one will be able to use your virtual card. Without the owner's fingerprint, it is impossible to access payments.
To better understand that nothing will happen to the data, just imagine that inside the phone there is just a duplicate of your card, and the fingerprint is a pin code. No card works without a pin code, and payment in Samsung Pay is impossible without a user's fingerprint.
Samsung Pay and Apple Pay: Differences
Samsung outperforms Apple's service if we consider the capabilities of the system. The two systems almost completely repeat each other, but Samsung Pay allows you to pay in more places. Apple Pay uses NFC technology, which means that payment will only be made at terminals that work with contactless cards.
Samsung Pay service works not only with NFC technology, but also with MST (Magnetic Secure Transmission) technology. Thanks to this, you can pay by phone at simple terminals that accept magnetic stripe cards.
It turns out that the service from Samsung is much more versatile, since you can pay with it even on outdated terminals. Perhaps changing the phone if you already have an Apple smartphone is not worth it. But if you are now facing the choice of a smartphone, then we recommend that you take a closer look at Samsung smartphones, as their payment service will open up more opportunities for you.
Apple Pay is, in fact, a similar payment system for iOS devices, which appeared on the Russian market almost at the same time as the application from Samsung. Both applications immediately became popular with smartphone users in Russia. However, despite the almost identical concepts, Apple and Samsung payment systems have several significant differences.
Samsung Pay has gained popularity since its launch in Russia due to the fact that the South Korean company entered into an agreement with several Russian banks at once – among them Alfa-Bank, VTB 24, Raiffeisenbank and Russian Standard Bank. At the same time, at the start, only Sberbank cardholders received support for Apple Pay.
In addition, the range of Samsung devices that support the new payment system is much wider than that of Apple – among "apple" smartphones, Apple Pay can be installed on models released after 2014: iPhone 6/6 Plus/6s, 7, 7 Plus, iPhone SE, and Apple Watch.
Another important distinguishing feature of Samsung Pay is the MST module installed in South Korean smartphones. Apple gadgets are equipped with an NFC module that allows you to make contactless payments only. MST technology – Magnetic Secure Transition – imitates the magnetic field of a plastic card, so the terminal perceives a smartphone attached to it with Samsung Pay as a card rental. Therefore, Samsung Pay can be used even in stores without installing contactless payment terminals.
Which cards are supported
Thanks to Samsung Pay, you can pay for purchases in the store at any terminal that supports contactless or magnetic stripe cards. To do this, you need to be the owner of one of the modern Samsung phones:
Galaxy A5(2016)/A7(2016);
Galaxy S6/S6 edge/S6 edge ;
Galaxy S7/S7 edge;
Galaxy Note5;
Samsung Galaxy S6 smartphones only support NFC payment. This means that they can only pay at contactless terminals. The rest of the smartphones that are on the list allow you to pay at old terminals that accept magnetic stripe cards.
All Samsung flagship phones released since December 2016 are expected to support mobile payment service. It is likely that in 2017-2018 we will see this service on phones of the middle price segment. On the cheapest devices, it is unlikely to appear. But most experts are sure that Samsung Pay will grow and develop steadily.
Please note that only MasterCard cards are supported. Visa cards are also expected to be connected to the system in 2017. You can connect up to 10 different bank cards to one smartphone. One card can be connected to the number of devices that is allowed by the rules of your bank. For example, in Sberbank one card can be linked to only one device.
The service does not allow you to withdraw money from an ATM. But it allows you to cash out money in Europe at the checkout, if the store says that it can return change from bank cards. This happens infrequently, but it happens, and this allows you to cash out money from a card on your phone. Remember that your phone is a complete analogue of your card.
At the moment, the following banks cooperate with Samsung Pay in our country:
Alfa-Bank
MTS-Bank
VTB
Russian Standard
Raiffeisenbank
Sberbank
The list promises to expand every month, you need to follow this in the news, social networks and our blog. Progressive banks are always among the first to cooperate with the technologies of the future, and Alfa-Bank is no exception. We ran to the nearest branch and checked, indeed, the service is working.
To decide whether it is worth working with such a bank, but this is our subjective opinion. Usually this issue is a matter of prioritization. For example, Alfa-Bank is a large and reliable credit institution that does not shy away from anything new and progressive. By the way, the first Internet banking in our country appeared precisely at Alfa, many then doubted whether such a service was needed. Now every self-respecting user cannot do without it. The same situation is happening now with Samsung Pay.
Alfa-Bank credit cards are created for every taste. Among them, two stand out with an interesting program: "Cashback" and "100 days without%". One of them does not accrue interest on any purchases for 100 days, and the other brings a profitable return percentage from each item or service purchased. And with an Alfa-Bank Russian Railways card, a bonus in the form of points, which you can then use to travel, is returned after every 30 rubles spent.
At the start, Samsung Pay was immediately supported by many fairly large Russian banks, and over time, their number has expanded significantly. Now customers of such banks as Sberbank, VTB 24, Alfa-Bank Raiffeisenbank, Promsvyazbank, Russian Standard Bank, as well as Tinkoff, MTS Bank, Yandex Money, etc. can now link cards to Samsung Pay.
Sberbank customers were able to use the Samsung Pay service some time after the service was launched in Russia, in November 2016. Sberbank introduced a wide range of plastic cards that support the new service, including debit cards:
World MasterCard Elite Sberbank 1,
MasterCard World Black Edition Premier,
World MasterCard Gold,
MasterСard Platinum,
MasterCard Gold,
MasterCard Standard,
MasterCard Standard Contactless,
MasterCard Standard with custom design,
Youth card MasterCard Standard,
MasterCard Standard youth card with individual design;
And credit:
MasterCard Gold,
MasterCard Standard,
Youth card MasterCard Standard.
Sberbank provides the service at no extra cost and no Internet connection.
Since the end of September 2016, holders of Mastercard cards issued by Alfa-Bank have been able to use the Samsung Pay service, and since December 1 of the same year, Visa cardholders have joined them. At the same time, Alfa-Bank has introduced a convenient option that allows its customers to block a plastic card if it is lost using the Alfa-Mobile application and at the same time continue to use it through Samsung Pay.
The Samsung Pay payment system got off to a great start in the Russian market and continues to attract new users. The application of South Korean developers significantly outperforms the Apple application in terms of functionality due to a wide range of devices that support it, as well as the ability to conduct operations with terminals without contactless payment.
VTB24
https://www.youtube.com/watch?v=SNw3VrtkJ28
VTB24 cardholders were among the first to appreciate the benefits of Samsung Pay. At the same time, the "Superpayer" campaign was timed to coincide with the launch of the system. A team of "superpayers" discreetly paid for purchases from customers who lingered at the checkout, demonstrating how easy and convenient it is to pay with Samsung Pay. The application is supported by all VTB24 credit and debit cards. There is no fee for using the application.
Infographics
So, Samsung Pay allows you to pay for purchases with a bank card linked to the NFC module of your smartphone or Samsung smart watch. To use it, you need to: Determine if your card and device support this payment method Install the Samsung Pay application and add a card to it During the payment process, bring your smartphone to a contactless POS terminal and, if necessary, enter a PIN code If there are several cards, select the required one
All your card details in Samsung Pay are securely protected. In addition, the system can emulate the magnetic stripe of the card – this allows you to use it even where contactless payment does not work.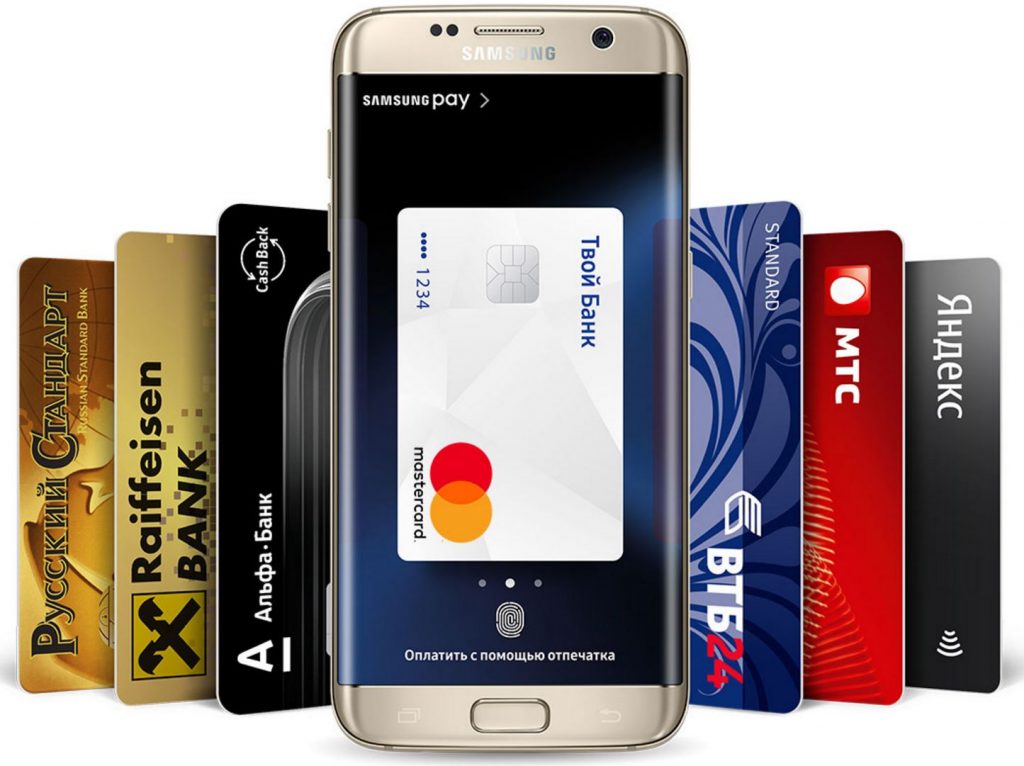 Already using Samsung Pay or planning to? You can leave your opinion and share your experience of using it in the comments.
Did you find answers to all your questions in this article?