What Samsung Pay is used for
The service allows you to turn a smartphone into the equivalent of one or more bank cards, allowing you to pay for goods and services both in supermarkets, cafes or transport, and when making purchases via the Internet.
A kind of electronic wallet, protected from other people's raking paws.
It is especially captivating that for payment you can use not only NFC terminals, but also those that work with a credit card magnetic stripe.
Only antique devices, in which the whole card has to be inserted, are not able to work with the service.
How does Samsung Pay work?
Please note that this system is not supported on all mobile devices. Contactless payment with Samsung Pay is available on the following smartphone models:
Product line from the S series, from S6 phone to S9 plus. But the S6 has only an NFC module, which means that the magnetic tape is not available.
Devices from family A, from A5 from 2016 to A6 from 2017.
Galaxy Note fifth and eighth models.
Smartphones marked J5 and J7, not earlier than 2017.
Smart watches Gear Sport and Gear S#3.
Unfortunately, other models from the manufacturer, cheaper and simpler, do not support this type of contactless transaction. Therefore, carefully read the user manual before buying a smartphone.
When the utility is launched for the first time, it may swear and will not start working for a number of reasons that you can fix yourself. Possible failures:
Be sure to update the firmware of your mobile device to the latest current version. Old Androids or self-made software do not support the service.
For the function to work, create an account in the Samsung system, otherwise you will not be able to log in to the application.
Keep in mind that contactless payment only works with certain models of smartphones, so check the compatibility of the utility with your phone in advance.
Sometimes breakdowns and problems cannot be solved on your own. For such cases, the manufacturer's company has launched a hotline phone, technical support works around the clock and seven days a week. Dial 88005555555, wait for an answer from a specialist and ask a question. Sometimes the culprit of incorrect operation is the NFC chip itself, in which case you need to go to the service department and order a replacement.
We can summarize, Samsung Pay is a unique payment system. The user can make purchases in any store with any terminal, as well as use discount cards. The only negative is a small range of devices that support the function, but it will be replenished soon.
You can pay for a purchase with a smartphone if you have the following gadget models:
Galaxy S7 edge
Galaxy S6 edge
Galaxy Note5
Galaxy A5
Galaxy A7
As well as smart watch Samsung Gear s3
If you are a happy owner of one of these smartphones, then Samsung Pay is at your service. It remains only to update the firmware of the device to the latest version.
After updating the update, you should select the mode of adding "plastic" or take a photo of the card with automatic recognition of the digital code. The easiest option is to enter numbers manually.
Having filled in the fields with the name and surname, the expiration date and the verification three-digit code on the back of the credit card, we draw a personal signature with a finger in a special window, such as on the card. The smart gadget contacts the database of your bank, checking the relevance of the information. If the check is successful, the map appears on the screen. Its appearance is the same as in reality, including background images.
From now on, the virtual card is in combat readiness, the edge of the "plastic" is visible at the bottom of the screen. You can call the card to pay for purchases with a swipe, from bottom to top. The service settings help to set a default credit card, if there are several of them, as well as a type of payment protection – a fingerprint or a pin code. It is safest to choose the first option.
A special module is built into the smartphone, which allows data transfer at a distance of several tenths of a meter. Allowing the purchase, you bring the gadget to the terminal, and that's it. The further process is the business of the bank, you have nothing to delve into it. The main thing is that it is ultra-safe and extremely fast. A few fractions of a second – the purchase is made, you are happy to go home.
Samsung Pay is a mobile payment system of a Korean company. Its main feature is the ability to make payments through terminals equipped to interact with magnetic tape cards that are familiar to many. To do this, in modern Samsung smartphones that support working with the service, MST technology is implemented.
With its help, the phone generates an alternating current, thereby creating a field that can change dynamically. It operates approximately at a distance of 8 centimeters from the reader. At the same time, the terminal is sure that the payment is made with a conventional magnetic card, so there is no need to re-equip it.
The owner of a Samsung smartphone with service support adds credit card data to the application, which subsequently enters Samsung Knox and remains there in encrypted form. Before making a payment, he selects the desired card, gains access to it by providing his fingerprint or entering a PIN code, brings the device to the terminal and waits for the transaction to complete.
During payment, the smartphone does not transmit card data to the device for payment, but a 16-digit code called a token, so attackers will not be able to intercept them during the "communication" of the mobile device and the terminal. If they manage to get hold of the token, then they are unlikely to be able to do anything with it, since the system will immediately block it when reused.
You can now pay with Samsung Pay on one of the following Samsung Galaxy models: S7, S7 Edge, A3(2017), A5(2016/2017), A7(2016/2017), Note 5, S6 Edge , S6 Edge and S6. Interestingly, on the last two devices, payment is made only using NFC technology. Versions of Samsung Galaxy A3 and A5 2015, as well as S5 and Note 4, the service is not available.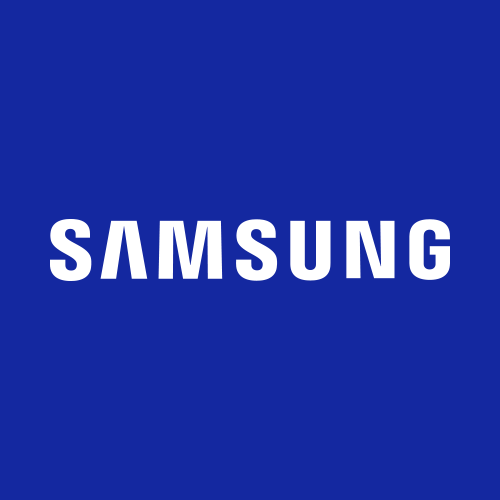 Samsung provides full access to the payment system only to owners of its smartphones. Owners of mobile devices from other manufacturers cannot use it. At least for the reason that their firmware lacks Samsung Knox technology, which stores all credit card data in encrypted form.
Which devices allow you to use the system
There are not so many models in Russia that allow you to work with Samsung Pay. First of all, this is the Galaxy S line, starting with the S6. Note 5 became the oldest gadget from the Note line supporting the service.
From the more modest A family, the list includes all devices from 2017 and the A5 and A7 (2016). All of them, except S6 and S6 edge, support both contactless payment options.
The above smartphones can only work with
– MST technology is not available to them.
In addition, owners of smart watches Samsung Gear S2 and Gear Sport, which support only NFC, and Gear S3, for which both options are available, can also pay using this PS.
Rooted smartphones cannot be used for payment. As for models from other manufacturers that can work with Samsung Pay, there are none at the moment.
And it is unlikely that the company will give someone the opportunity to use Samsung Knox technology in their gadgets, which ensures the security of using the PS.
Samsung Pay is a modern and convenient contactless payment method. With it, the user can pay for the purchase in any store where an appropriate payment terminal is installed and bank cards are accepted. The main advantage of such a service is that NFC technology is used, as well as MST. Thanks to this symbiosis, the subscriber has the opportunity to make payment transactions even with terminals that read credit card magnetic stripes.
Samsung has created its own technology, with the help of which a mobile device generates an individual magnetic field that imitates a simple bank card. This means that with one mobile phone in their pocket, the consumer can complete any purchase without additional fees.
Paying by phone is quite simple, for this you need to perform a number of simple operations:
Purchase a mobile device that supports this feature.
Add your virtual card to the application.
Select the required credit card from the list of previously added ones. This can be done in the main utility in the corresponding tab or from the list of favorites. Opens after swiping your finger from the bottom up on the smartphone screen. To set up a list of favorite cards, go to your phone settings. Here you can adjust the features of displaying credit cards on the main screen, as well as add the ones you need to the list.
Pass authorization, to do this, enter a security password or scan your fingerprint and bring the device to the payment terminal.
After that, you have thirty seconds left to complete the payment. After 20 seconds, the repeat icon will appear on the display. If you press it, the waiting time will increase by another 20 seconds.
Done. Wait for a check from the terminal. The operation will be successful only if there are funds in the bank account.
Is it safe?
Rumors about the risks of using Samsung Pay as a contactless payment method are spread by people who, as a rule, do not have such smartphones. Especially ridiculous are the speculations about double debits and scammers with "hacker devices". Nonsense, pure water, from unenlightened people.
Even if your smartphone is stolen or lost, no one will be able to use your virtual card. Without the owner's fingerprint, it is impossible to access payments.
To better understand that nothing will happen to the data, just imagine that inside the phone there is just a duplicate of your card, and the fingerprint is a pin code. No card works without a pin code, and payment in Samsung Pay is impossible without a user's fingerprint.
Among users, there are a sufficient number of those who are afraid for the safety of their data and money when using this payment method. Manufacturers guarantee the highest level of safety. And here are the solid arguments:
When making a transaction, personal data is not transferred to the payment terminal and it is impossible to intercept it.
No one except you will be able to confirm the payment, because this requires a fingerprint.
All Samsung mobile devices are pre-installed with an anti-virus program that blocks infection and prevents information leakage. If an intrusion is suspected, it automatically erases all banking data and transaction history.
It is advisable for each user to observe the following precautions:
Do not tell anyone the security code to enter the application, even representatives of banking organizations and relatives.
Try to come up with a complex pin code and remember it. If you forgot, then you will not be able to recover the password without a fingerprint.
Do not leave your smartphone unattended in a public place and do not pass it on to third parties.
If your mobile device is lost or stolen, block it using the Samsung Find My Mobile service and be sure to contact the bank to block the account.
If you suspect hacking, also contact the bank.
When sending the device for repair or when selling, delete your data, perform a full reset.
Install Samsung Pay app updates in a timely manner.
Check the amount on the terminal before making a transaction.
Do not block the security functions of the system.
If you follow all these recommendations, then your funds will be reliably protected.
Your card details are not stored on your device or Samsung servers. Instead of a real card number when paying
uses a special digital code generated randomly – a token.
Each transaction must be confirmed by your fingerprint, iris or application PIN code —
Only you can make purchases.
Built-in Samsung Knox security ensures data protection regardless of the operating system on
device and blocks access to Samsung Pay data if it detects malware, Root rights, or
unofficial firmware.
No. Samsung Pay does not have access to a bank account.
Your card information is not stored in Samsung Pay on your device or on Samsung servers. To commit
transactions only use card token data.
Application PIN cannot be recovered for security reasons. If you forget your Samsung Pay PIN:
Clear the data of the "Samsung Pay" app. All payment data will be deleted from the smartphone.
Sign up for Samsung Pay again.
Re-add your payment cards (for this you will need to re-verify the card using the code from the SMS
from the Bank).
If your device is lost or stolen, your payment information will be protected: For each
Samsung Pay transactions require user verification by fingerprint, iris, or
Application PIN. You can also block or delete all data from the device (including data
Samsung Pay) via Samsung service
Find My Mobile*.
*On the device, the "Remote control" function must be enabled beforehand (Settings – Display
locks and security – Find my phone).
No. If you reset the settings, all data from Samsung Pay will be deleted.
No. Samsung Pay is a payment service that must securely protect payment data. Embedded system
Samsung Knox security ensures data protection regardless of the operating system on the device, and
blocks access to Samsung Pay data when malware, root access, or unofficial firmware is detected.
What cards does Samsung Pay support
At the moment, the following banks cooperate with Samsung Pay in our country:
Alfa-Bank
MTS-Bank
VTB
Russian Standard
Raiffeisenbank
Sberbank
The list promises to expand every month, you need to follow this in the news, social networks and our blog. Progressive banks are always among the first to cooperate with the technologies of the future, and Alfa-Bank is no exception. We ran to the nearest branch and checked, indeed, the service is working.
To decide whether it is worth working with such a bank, but this is our subjective opinion. Usually this issue is a matter of prioritization. For example, Alfa-Bank is a large and reliable credit institution that does not shy away from anything new and progressive. By the way, the first Internet banking in our country appeared precisely at Alpha, many then doubted whether such a service was needed. Now every self-respecting user cannot do without it. The same situation is happening now with Samsung Pay.
Alfa-Bank credit cards are created for every taste. Among them, two stand out with an interesting program: "Cashback" and "100 days without%". One of them does not accrue interest on any purchases for as long as 100 days, and the other brings a favorable percentage of return, from each item or service purchased. And with an Alfa-Bank Russian Railways card, a bonus in the form of points, which you can then use to travel, is returned after every 30 rubles spent.
So, you have purchased a compatible device, now the question arises, what banks does this function support? You don't even have to worry about this. At the moment, the manufacturer cooperates with more than 60 banks and this list is constantly updated. Here you will find both the state-owned Sberbank and the recently popular Tinkoff.
If in doubt, you can always check the compatibility information on the official Samsung portal. For this:
On the dealer's website, go to the Samsung Pay tab.
After that, in the main window you will see the bank verification tab.
Here you will see a list of all organizations with which the contactless payment function cooperates.
If you do not want to search, then write the name of your bank in the appropriate field. The system will instantly give you a reliable answer.
In addition, club cards can be added to the application. To view the list of partner companies, click on the item of discount cards, and the display will show a complete list of organizations.
By now, most of the major financial institutions in Russia are already working with the service. Among them are Sberbank, VTB24, Tinkoff, Alfa-Bank, and many others.
To find out if it is possible to link a card to a gadget, you can find a complete list of banks on the official Samsung website.
Can criminals steal funds?
Authorization is required to make any financial transaction using Samsung Pay. If a fingerprint scanner is used in this capacity, then scammers have no chance, even if they manage to steal the smartphone itself.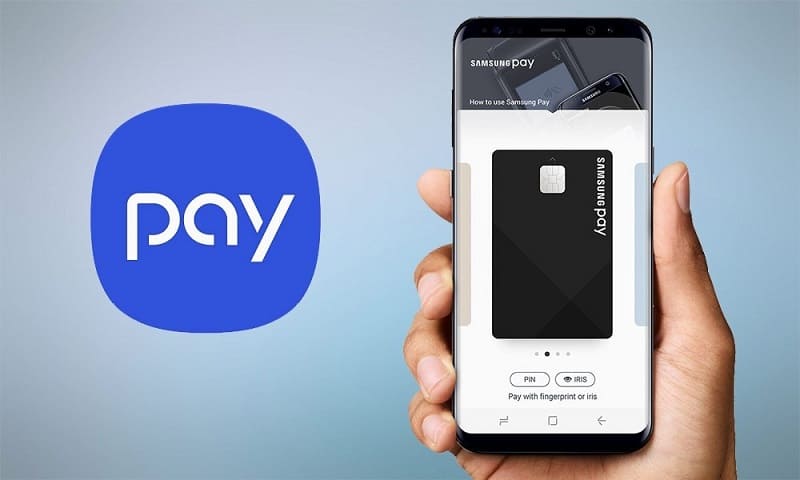 If a pin code is used, then theoretically it can be spied on in public places.
As for communication channels, everything is no less reliable there. The card details are not stored in the smartphone, they are located on the server of the payment system.
Instead, a unique token is used for each transaction – a randomly generated sequence of symbols.
You should also keep in mind the presence of the KNOX system in Samsung devices, which checks the firmware of the device before registration.
In the presence of rooting, malicious applications or other outside interference, card binding will become impossible, and the application itself will be blocked.
Pros and cons
Advantages of the payment system
Fast and easy payments.
The inability to steal funds from the card in one way or another.
The ability to use both NFC and conventional terminals thanks to proprietary MST technology.
Support for loyalty programs, thanks to which the user receives bonuses and discounts.
Disadvantages
A very limited number of models supporting the service.
Inability to use customized firmware.
Infographics
So, Samsung Pay allows you to pay for purchases with a bank card linked to the NFC module of your smartphone or Samsung smart watch. To use it, you need to: Determine if your card and device support this payment method Install the Samsung Pay application and add a card to it During the payment process, bring your smartphone to a contactless POS terminal and, if necessary, enter a PIN code If there are several cards, select the required one
All your card details in Samsung Pay are securely protected. In addition, the system can emulate the magnetic stripe of the card – this allows you to use it even where contactless payment does not work.
Already using Samsung Pay or planning to? You can leave your opinion and share your experience of using it in the comments.
Did you find answers to all your questions in this article?
In closing
The service could compete with Apple Pay before
, which can be installed on any devices with this OS, including Samsung ones.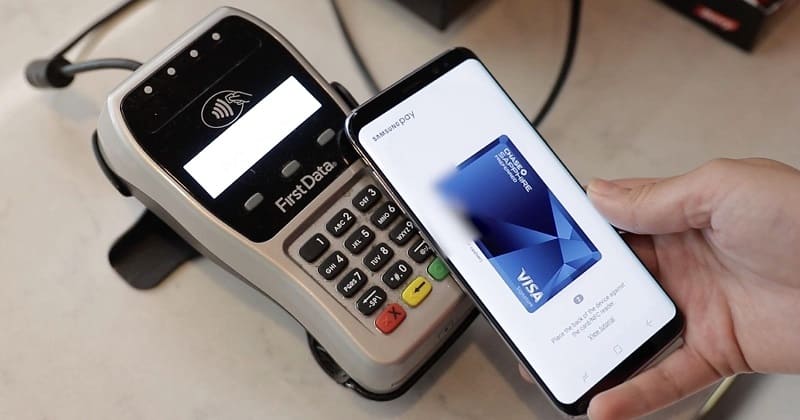 True, in this case, you will need to turn off the KNOX system. On the other hand, Xiaomi is already creating its own PS, despite the appearance of Google.
It is not yet clear how the situation in the contactless payment market will develop in general if each large company launches its own service.
But in any case, it is too convenient for users to ignore this opportunity to get rid of extra credit cards and at the same time increase payment security.