NFC equipment
If we talk about NFC microchip manufacturers, then first of all about the largest developer of microprocessors and microcontrollers
For NFC systems, they produce all kinds of products, from passive tags to active NFC controllers with built-in shell software.
These small passive IC tags are the most cost effective solution when you have an NFC reader or an NFC phone as an active device.
The tags have an RF(radio frequency) interface that is fully complementary with the NFC specification, uses energy harvesting* mode, so there is no need to install a battery to power a passive NFC tag.
NFC Frontend (NFC chip)
Integrated circuits with NFC interface. Provides flexible NFC configuration for your system.
NFC controller with custom firmware
The NFC controller is an NFC interface microchip plus a 32-bit Cortex-M0 microcontroller that can execute your application logic. The firmware is fully customized to the needs of the customer.
NFC controller with integrated firmware
This is a turnkey solution that combines an NFC interface with a 32-bit Cortex-M0, the microcontroller is embedded with firmware, and is optimized for use with the OS.
For NXP, these are type 2 tags according to the NFC Forum specification. It is clear from the figure that such a tag, despite its modest size, has with it: an antenna, an RF module, an interface for communication with the microcontroller, EEPROM memory, and a module for collecting energy. Memory can be configured to be overwritten or password protected to limit data manipulation. The tags support the digital elliptic cryptography (ECC) algorithm, the so-called digital signature, which adds an additional layer of security and allows you to verify the authenticity of data without connecting to the cloud. They support passive communication mode, tags with an additional energy collection module do not need a separate power source.
NXP has series marks
NTAG I²C plus
and NTAG 213F/216F. The NTAG F series provides standards-based functionality ideal for interfacing with other NFC devices. N TAG I²C plus has an I²C interface for use with a microcontroller, supports power harvesting and modem mode.

NFC Frontends
are primarily intended for use in contactless smart card and tag applications, while the PN5180 is intended for general use in applications ranging from smart cards to mobile phones. Fully compliant with ISO/IEC, EMV, and NFC Forum specifications, embedded libraries ensure reliable operation and easier certification. Power saving mode and features such as low power card detection prolong battery life.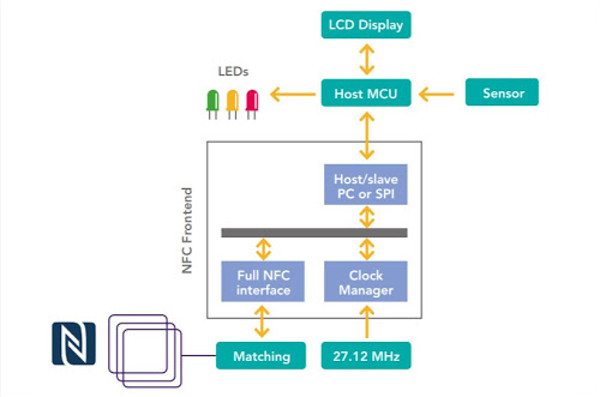 NFC Frontends (NFC microchip)
The figure schematically shows the modules that make up such an NFC microchip: these are the NFC interface, the built-in clock control module, and the interface for communication with the microcontroller.
In addition to all of the above, microchip
offers the most advanced transmitter and receiver features. The functions of Dynamic Power Control (DPC), Adaptive Waveform Control (AWC), Adaptive Receiver Control (ARC), and EMD automatic error handling, in accordance with the latest ISO/IEC14443 and EMVCo specifications, are performed by the microchip itself without interaction with another microcontroller. Support for these features preempts the use of multitasking operating systems such as Linux or Android. Using the DPC function for automatic antenna optimization,
improves performance when metal, other cards or mobile phones are nearby. DPC also helps reduce power consumption and provides better power output for longer read distances.
NFC controller with custom firmware
Combining NFC interface with advanced powerful 20MHz ARM Cortex-M0 microprocessor, PN7462, PN7362, PN7360 NFC controllers with custom firmware is the best choice for compact systems, they can achieve higher integration with your system or application with less the number of components. A fully configured application can be loaded into the flash memory, and the optimized antenna performance combined with low power consumption ensures excellent performance.
There are already more modules in these controllers. In addition to the already known: NFC interface, internal clock module, Cortex-M0 microprocessor with flash memory, there is a GPIO module or direct control low-level I / O interface, an SPI bus module or a serial peripheral interface module and a module for other interfaces such as I2C, HSUART and others.
NFC controller stuffing with custom firmware
All in all, these controllers are well packaged.
NFC controller with built-in firmware
Designed to save time in system development, NFC controllers
with embedded software combine NFC interface with advanced ARM Cortex-M0 power-saving 20MHz microprocessor, pre-installed drivers for Linux, Android and WinIoT.
NFC controller stuffing with built-in firmware
The PN7150 microcontroller uses a wider supply voltage range, which makes it possible to use a smaller antenna area without sacrificing performance, supports FeliCa type 3 tags, both in card reader mode and in card emulation mode (for use in Japan, Hong Kong, Singapore and other Asian countries where Felica is widely distributed).
How it works
For developers of systems, equipment and applications using NFC controllers, NXP offers so-called "development kits" for programming tags, chips, or uploading firmware to the controller. You can also use NFC
– a modular multi-level library that contains various ready-made APIs for integrating NFC equipment into applications.
If you cannot decide which chip you need, then simply answer the following questions:
a huge table on the NFC compatibility of NXP products, their characteristics and more.
FMSH
On the other side of the world, a Chinese company is developing similar equipment
Fudan Microelectronics Group
. They produce microchips for the banking system based on NFC technologies, smart sensors for measuring devices based on ASIC integrated circuits, microchips for transport and social cards:
More details on these chips can be found at the links, although it is obvious that NFC is far from being the main product for the Chinese.
How to find out if your phone has NFC
There are several ways to find out if a particular phone supports this option. The easiest thing to do when deciding to buy a phone with an NFC function is simply to study the "Specifications" sections in the description of a particular device on the store's website or look for reviews of the selected smartphone on the network. If the device has already been purchased, then you can find out if the gadget supports NFC in the following ways:
The function is enabled through the settings menu by activating the slider or ticking the box
Other wireless technologies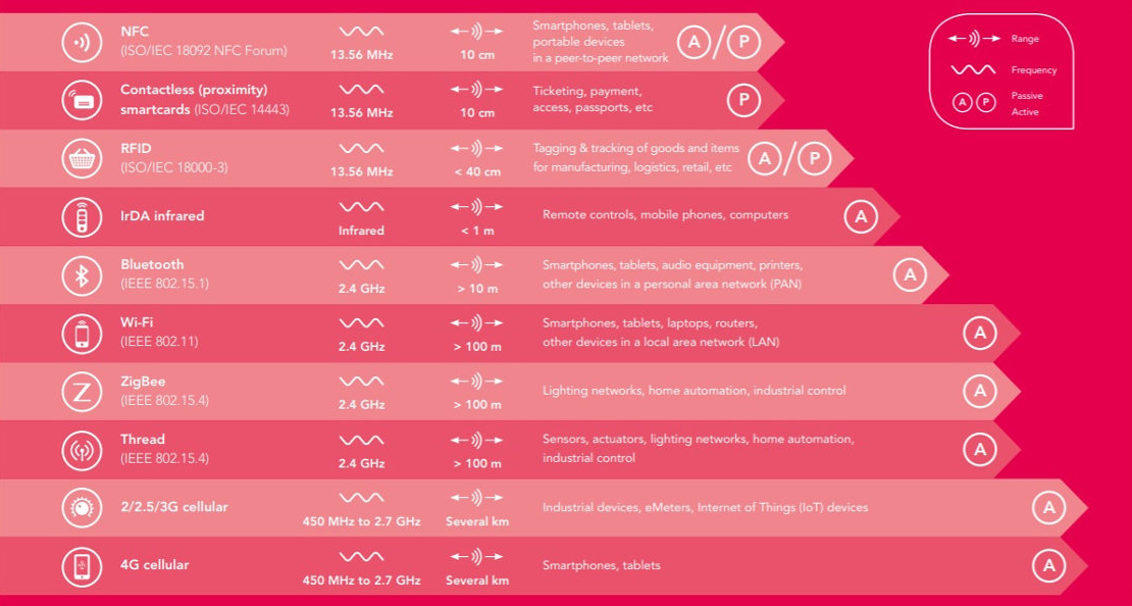 Comparison table of wireless interfaces
You might also be interested in.
It's not about hacking transport cards or something not very legal. In the Industry Solutions section, I gave examples of how NFC is used by large companies, medical institutions, transport carriers, and more. But what is the use of NFC for the average person, except for card emulation.
NXP has an app for mobile devices –
, free for all platforms. It can be used to read and write labels. The tags themselves are sold in the form of cards or in the form of stickers on Internet sites and cost absolutely affordable money.
TagWriter App by NXP
You can write a business contact to a tag, for example, to tags in the form of cards, use them as business cards. You can record the connection setting to a Wi-Fi hotspot or Bluetooth device and stick it in a visible place for easy use. Have guests come to you and ask for a Wi-Fi password? No problem, there's a label on the fridge. Who remembers the wifi password anyway? You can record your contact on a waterproof tag and hang it on your dog's collar. I did it, it costs less than ordering a badge engraving. Labels can be overwritten and leave messages. Who even uses SMS or, even better, paper notes now? No time for social media? Leave a message on the label. Soup is in the fridge. Buy bread. I will be late."
What can you do with NFC?
NFC adoption has improved significantly in recent years. Here are a few popular use-cases of the technology:
Apps like Google Pay and Samsung Pay use NFC to facilitate contactless payments.
Security
If we are talking about the security of using NFC, then this does not mean exclusively secure payments, since it is clear from the previous voluminous section that the use of NFC technology is not limited to payments. The security and protection of data that is transferred to a tag or controller, or transferred to a third party such as a POS terminal, or to a vehicle's infrastructure, or to an identification database, is important in all areas of NFC technology.
Safe car
Previously, you had a car and a physical iron key to it on a key fob, that's all. If they wanted to steal your car, they broke the glass, opened the dashboard, started the car with two wires, that's it, goodbye to the car. Then on-board computers, electronics, immobilizers began to appear. A modern car is a technological space and infrastructure for the interaction of various technologies. Cars are equipped with Bluetooth, GPS, Wi-Fi, NFC modules, except for those that work with internal protocols and ports, such as OBD.
If before the maximum risk for the car was physical penetration and theft, now the attacks have become remote. Here
articles about how hackers took advantage of Jeep and Tesla S vulnerabilities, and after these cases Fiat Chrysler
withdrew 1.4 million
vehicles with suspected same vulnerabilities. Now the maximum risk is not car theft, but the possibility of remote control interception and harm to the health of those in the car.
A modern car uses different communication protocols
The protection of a modern car is based on 5 elements: secure interface, secure gateway, secure network, secure processing, secure access.
Car security Secure interfaces – secure interface. Secure Gateway – secure gateway. Secure Network – secure network. Secure Processing – secure data processing. Secure Car Acces – secure access to the car.
Full text of NXP article
, protections at levels 1 to 4 are discussed in detail there. But we are interested in the security of using NFC technology, since the article is about this.
Digital key technology or SmartKey (or Digital Key) is designed in such a way that the key is not stored or transmitted in the clear. A digital key is some kind of original set of data that the car manufacturer sews into the car's firmware along with a set of functions that are available with this key. He (car manufacturer) is TSM (Trusted Service Manager) for key users, i.e. the user does not receive a car key, he receives a set of encrypted data, which is the key to decrypt the original key, and is stored in the SE of the mobile device, respectively. N FC is only used to transfer this encrypted data to the vehicle. Given that NFC works at a distance of about 10 cm, it is almost impossible to scan and find out this data. Another important part of the security architecture is TEE, the so-called Trusted Execution Environment or secure execution environment, is a safe area of ​​​​the main processor and guarantees the protection of the code and data loaded inside in terms of confidentiality and integrity.
Secure car access via NFC. Car OEM is a car manufacturer. T SM – trusted service manager (key provider). Mobile UI – mobile interface. T UI – trusted interface. T EE – trusted execution environment. Secure Element – a secure element. S E provider – provider of the protected element. S E provider agent – The executable application of the secure element provider. NFC – NFC chip.
Secure data storage
Using a protected elementOf course, this has already been mentioned in the previous sections. One option for storing card credentials and sensitive information on a smartphone is the Security Element. We remember that SE is the physical chip on which
some applications with sensitive data, for example, an applet of a payment application, transport, etc. This chip can be part of a mobile device's hardware platform, or a SIM card, or even an SD card.
We also remember that applets and data on the SE are managed by TSM, a trusted service manager.
Applets in a protected element
Any sensitive data, such as data associated with a virtual card, that is stored on the SE is protected in the same way as on a physical contactless card. However, there is one important difference. S E is permanently connected to the smartphone and via the smartphone to the Internet. The potential for attacks is much higher than for a real card. Data on a regular card can only be accessed if it is near a proximity reader, and only if the proximity reader has been tampered with. This implies the need to restrict access to applets on the SE.
And now, another non-profit organization that develops specifications for secure digital ecosystems in the United States,
released the Trusted Execution Environment Specification, or TEE. This environment, such a layer between the OS of the mobile device and the SE, in which the exchange of data and commands is protected. Here are the specifications
on cryptographic algorithms, TEE system architecture, etc.
Trusted Execution Environment – trusted execution environment
GlobalPlatform TEE Internal API – internal API of the trusted execution environment. Trusted Core Environment – trusted core environment. Trusted Functions – trusted functions. T EE Kernel – the core of the trusted execution environment. HardWare secure resources – hardware security resources. Hardware Platform – hardware platform. RichOS is an operating system. GlobalPlatform TEE client API – client APIs of the trusted execution environment. Rich OS application environment – the main application execution environment in the operating system.
SmartCardAlliance seminar series on NFC security basics.
Use of HCE Technology Latest versions of Android operating system support
Host Card Emulation
or HCE. The use of HCE means that NFC commands can be sent directly to the API running on the operating system of the mobile device. The HCE technology itself does not require the storage and processing of credentials or confidential data, and HCE does not provide any security methods. Any necessary security must be implemented on top of the HCE implementation.
The application can send NFC commands to any place accessible by the smartphone. This makes the options for implementing a virtual card almost limitless – from a completely cloud-based card to storing (part of) a virtual card in SE. Since HCE does not provide security, this technology is used in conjunction with the already known TEE and tokenization. T EE provides security services and isolates access to its security hardware and software resources from the feature rich OS and related applications. Algorithm
replaces sensitive data with a token that looks the same, but is useless to an attacker.
Safe Money
From all of the above, it is clear that the use of contactless payment technology using an NFC device is no more dangerous than a conventional contactless card, and even no more dangerous than a conventional contact card.
. In short, it serves to shield the object from external electromagnetic fields. This invention of Faraday is taken as the basis of covers for shielding keys, cards, and similar NFC devices from being read without the knowledge of the owner.
SmartCardAlliance answers questions about whether contactless payments are safe.
NFC tag security
NFC tags are subject to the following types of threats.
Well, the most important thing is your opinion
Nothing motivates me to write new articles as much as your rating, if the rating is good, I keep posting articles, if it's negative, I think how to improve this article. But, without your assessment, I do not have the most valuable thing for me – feedback from you. Do not take it for work, choose from 1 to 5 stars, I tried.
Rate my article:
(91 ratings, average: 4.78 out of 5)
The NFC tag chip
An NFC tag responds to specific NFC instructions. For instance, it can reply to an instruction such as "Read command" by displaying its memory content. It can also embed specific features to enable password protection, authentication, or tamper detection, provided these functionalities are pre-integrated in the tag chip.
NFC chips can be directly mounted on a plastic film or a textile to form an NFC tag. They can also be housed in a plastic package for mounting on a Printed Circuit Board (PCB).
Single-interface NFC chip
A single-interface NFC chip is a passive device embedded in an NFC tag, which only communicates with the other part of the NFC system, the NFC reader. Once it is activated by the NFC reader, the single-interface NFC chip enables the exchange of data between the tag and the reader, when they are brought in close proximity.
NFC is the only wireless technology that can be used to interact with NFC tags. Their small size allows them to be easily integrated in space-constrained objects, such as stickers, labels, key fobs, and more.
In addition to their ability to read and write data, some NFC chips also support specific features, such as tamper detection mechanisms and digital signature, which are suitable for identification and authentication applications.
For example, when an NFC-enabled smartphone is brought within reading distance of a wine bottle that embeds an NFC tag in its cork, the NFC reader can verify the origin of the tag and detect if the bottle has been opened, thereby ensuring the product's integrity.
Dual-interface NFC chip
A dual-interface tag, also called an NFC Dynamic Tag, is coupled with a microcontroller through a wired interface (I2C for example), thereby offering a second communication interface in addition to the NFC wireless link.
An NFC Dynamic Tag chip enables two-way, wireless communication between two electronic systems, even when no power is supplied to the object carrying the NFC Dynamic Tag.
An NFC Dynamic Tag acts as a bridge between two electronic systems and is able to:
NFC Controller chip
An NFC controller chip combines both an NFC reader and an NFC tag for an integrated solution. It is often embedded in NFC-enabled devices such as:
An NFC controller chip ensure secure transactions, thanks to the presence of a secure element or a SIM card, and runs in card emulation mode, which means it acts as a contactless smart card.
Learn about the benefits of integrating NFC Reader+Tag solutions (R+T) in your products
Do all smartphones have NFC?
Robert Triggs / Android Authority
In Western markets, NFC has been a staple feature on smartphones for several years at this point. The Google Nexus S was the first Android device to include it all the way back in 2010. Apple also eventually embraced the technology in 2014 — NFC is present on every iPhone since the 6. Similarly, wearable devices, ranging from fitness trackers like the Mi Band to smartwatches like the Apple Watch, also include it.
Most smartphones and wearables are equipped with NFC these days.
These days, only lower-end devices tend to not come with NFC. That said, the importance of NFC may vary depending on the region. To that end, some manufacturers, like Xiaomi, omit the coil in certain markets like India due to the technology's low adoption.
What is NFC and how does it work?
We gave you a brief answer to what it is already, but how does NFC work? NFC isn't some radically new technology. It's simply an evolution of RFID (radio frequency identification) technology that has already been around for decades. If you've ever used a key card to access an office building or hotel room, you're already familiar with how it works.
Both RFID and NFC operate on the principle of inductive coupling, at least for short-range implementations. This essentially involves the reader device generating a magnetic field by passing an electric current through a coil. When a tag (with its own coil) is brought nearby, the field induces an electric current within the tag — sans any wires or even physical contact. Then, once the initial handshake is complete, any stored data on the tag is wirelessly transmitted to the reader.
NFC is based on RFID technology, but has a much lower transmission range.
The key distinction between RFID and NFC lies in their transmission ranges — the former is often used over longer distances. For example, some regions automatically collect road tolls through RFID. Tags are usually affixed to vehicle windshields and you simply have to drive through the toll booth. Communication can take place over even longer distances (think a hundred feet or more) if the RFID tag is equipped with a power source.
NFC, however, only has a maximum range of a few centimeters, at most. And in most smartphone-related applications, you'll find that the software will only initiate communication if there's physical contact. This is to prevent accidental triggers — especially important now that the technology is used for transferring sensitive data.
Another noteworthy point is that devices can act as either an NFC reader or tag. This bidirectional capability allows you to use one piece of hardware — such as your smartphone — for all kinds of different applications.
NFC vs Bluetooth and UWB
Edgar Cervantes / Android Authority
NFC is far from the only wireless communication protocol. In fact, most devices already include similar technologies such as Bluetooth and ultra-wide band (UWB). So why include another?
One of NFC's biggest strengths is that it does not require pairing or manual input to establish a connection — tapping takes less than a second. Bluetooth devices, by contrast, have to be paired with each other, which is kind of a cumbersome process.
NFC is also significantly more energy-efficient than Bluetooth and UWB since the transmission range is extremely short. Most smartphones ship with the NFC radio enabled by default, while turning off Bluetooth is often the first battery-conserving suggestion.
NFC is less power hungry and faster to use compared to Bluetooth.
In fact, NFC's lower power draw also allows certain devices like the iPhone to enable it in emergency scenarios. This means that even if your phone runs out of juice, it will send just enough power to the NFC chip for you to access your campus, hotel room, or car.
While cars are starting to adopt UWB tech for keyless entry, it's nowhere near as efficient as NFC. To that end, it's not surprising that many automakers implement the latter as a fallback access mechanism. U WB is also more expensive and most applications currently served by NFC don't need its positional precision.
Furthermore, with so many NFC use cases already fleshed out, it's clear that the technology has carved a niche for itself. To that end, adoption is likely only going to improve from here on out.
FAQs
An NFC tag is a small integrated circuit consisting of a copper coil and some amount of storage. Data can be read or written to this tag only when another NFC device is brought near it because it doesn't have a power source. The proximity of the NFC device induces power in the tag and enables data transmission.
Any powered device that has its own NFC coil (like a smartphone or tablet) can act as an NFC reader. The reader device uses its battery to generate an electromagnetic field, which powers any tag brought near it. Another common example of a reader is a payment terminal, which uses NFC to authenticate a debit or credit card.
Every iPhone model released since the iPhone 5S in 2014 (6 and up) includes NFC hardware. As for Android, most mid-range and premium devices offer NFC support. You can consult the manufacturer's website or independent reviews to determine the feature's availability.
If you own a recent iPhone (from 2015 or later), it definitely has the requisite hardware for NFC. On Android, you can delve into the Settings app and then look for NFC under the "Connected Devices" or "Network and Sharing" sub-menus. Most recent Android phones support NFC.
NFC stands for Near Field Communication. It is a technology that allows wireless data transmission over short distances using radio waves.
You cannot explicitly turn off NFC on an iPhone. The feature is always on by default. The good news is that it consumes very little battery, so there's not a lot of benefit to turning off NFC like you would with Wi-Fi or Bluetooth.
Your smartphone can use NFC to mimic a contactless debit or credit card using apps like Google Pay, Samsung Pay, and Apple Pay. Payment terminals use NFC so your smartphone essentially emulates the data stored on your card. Only the account holder can add their card because the process involves authentication with the bank.
Как пользоваться NFC в телефоне для оплаты
Поскольку в большинстве случаев смартфон, имеющий «на борту» модуль NFC, используется в качестве платёжного инструмента, следует знать, как правильно пользоваться этой удобной функцией.
Оплата при помощи Android Pay
Чтобы выбрать телефон в качестве основного платёжного инструмента при наличии NFC, необходимо выполнить следующие шаги:
Посредством смартфона, оснащённого функцией NFC, можно оплачивать покупки в магазине. Можно настроить работу модуля в автоматическом режиме. To do this, do the following:
It is important that the terminal has a contactless payment function. Also, when making a payment, there is a limit on the amount. If the purchase at a cost does not exceed 900 rubles, then confirmation in the form of a card pin code is not required. If the amount is exceeded, the user will be required to enter a PIN. It can be additionally requested when making more than 4 payments in a row.
Using NFC on iPhone
The Cupertino-based company also has its own contactless payment service called Apple Pay. The general principles of payment are similar to the method that is implemented on Android smartphones. The first step is to link the card. First you need to clarify whether the bank that issued the plastic supports this payment system.
One device supports loading up to 8 different plastic cards, and it does not matter at all whether debit or credit plastic is used for payment. Payments are made by touching the terminal. Most importantly, the latter should have support for the PayPass system. Confirmation of acceptance of payment by mobile phone is the presence of the corresponding icon. To activate the built-in wallet on the iPhone, you must double-click the "Home" button. When making a payment, the finger must be placed on the TouchID, which will be an additional confirmation of payment by the user.
Apple Pay also has a limit on the amount of a transaction without entering a card PIN. It may vary depending on the host country. On the territory of the Russian Federation, it is allowed to make payments up to 1,000 rubles without confirmation via PIN.
Making payments via smartphone is completely safe, as card data is not shared with third parties
A few words about security
When paying with a smartphone instead of a card, the complete security of the transaction is guaranteed. The card data is not displayed on the terminal. The curious will see only the last 4 digits and the bank that issued the "plastic". The terminal itself does not receive all the data regarding the payment card. To complete a transaction, a random code is generated that has a limited duration. Therefore, its interception will not allow using the information received in the future.
Purchasing an NFC-enabled back cover is an easy way to get this option if your phone doesn't have it
Technical aspects of NFC operation
Before the NFC standards, there were other standards that were later taken as the basis of the NFC standard, for example,
. It describes the frequency range, modulation method and protocol for the exchange of contactless passive cards (
) short range (up to 10 cm) on magnetically coupled inductances.
Thus, NFC-enabled phones are capable of interacting with pre-existing reader infrastructure. Especially in "card emulation mode", the NFC device must at least transmit a unique identification number to the existing RFID reader.
NFC was approved as
/ IEC standard December 8, 2003.
NFC is an open platform technology standardized in
. These standards define the modulation schemes, coding, bit rates, and RF interface structure of NFC devices, as well as the initialization schemes and conditions required to control collisions during initialization for both passive and active NFC modes. In addition, they also define the transfer protocol, including the activation protocol and the communication method.
NFC air interface standardized in:
NFC Forum
As usual in world practice, in order to promote an idea, you need to gather a group of like-minded people. So in 2004, NXP Semiconductors, Sony and Nokia got together and organized the NFC Forum, a non-profit organization, to work together to promote NFC technology.
In addition, the NFC Forum has defined a common data format called
, which can be used to store and transfer various kinds of data items. N DEF is conceptually very similar
. This is a compressed binary format of so-called "records" in which each record can hold a different object class. By convention, the type of the first report determines the context of the entire message. The most common use of NDEF is to store information in labels.
NFC Forum Goals:
In June 2006, just 18 months after its founding, the Forum formally outlined the architecture of NFC technology. To date, the Forum has released 16
. Specifications provide a kind of "roadmap" that allows all stakeholders to create new products.
NFC Forum specifications
In addition to existing standards, the NFC Forum has collected the best of these standards into documents describing the operation of devices that use NFC technology and called them specifications.
For example, the NFC Analog Technical Specification refers to the analog RF characteristics of an NFC-enabled device. This specification includes antenna power requirements, transmission requirements, receiver requirements, and waveforms (time/frequency/modulation characteristics).
The NFC Analog 2.0 specification introduced active communication mode for P2P communication and NFC-V technology in polling mode. Version 2.0 provides full compatibility with devices conforming to ISO/IEC 14443 or ISO/IEC 18092.
According to these specifications, there are following communication methods for NFC devices: NFC-A, NFC-B, NFC-F, and five types of NFC tags. NFC devices can be active or passive communication and support one (or more) of 3 modes of operation.
NFC-A The NFC-A communication type is based on the ISO/IEC 14443A standard for contactless cards. Communication types differ in the signal coding and modulation modes used. N FC-A uses Miller code and amplitude modulation. Binary data is transmitted at about 106Kbps, the signal must change from 0% to 100% to distinguish between binary 1 and binary 0.
NFC-B The NFC-B communication type is based on the ISO/IEC 14443B standard for contactless cards. N FC-B uses the Manchester coding method. Binary data is also transmitted at about 106 kbps. Here, instead of 100%, a 10% amplitude change is used for binary 0 (i.e. low) and 100% for binary 1 (i.e. high). In Manchester encoding, a low-to-high transition represents a binary 0, and a high-to-low transition represents a binary 1.
NFC-F NFC-F communication type is based on the FeliCA JIS X6319-4 standard, also known as simply
. Standard regulated by Japanese
. This technology is the most popular there. Data transfer rate 212 / 424 Kbps, using Manchester coding and amplitude modulation.
NFC device modes
NFC device operating modes. Tag Reader/Writer – read/write mode. Peer-to-Peer – peer-to-peer P2P mode. Card Emulation – card emulation mode.
NFC-enabled devices support three operating modes: reader/writer, peer-to-peer, card emulation
Card emulation mode
Card emulation mode allows NFC-enabled devices to work as smart cards.
In card emulation mode, an NFC-enabled device communicates with an external reader like a normal contactless smart card. For example, when making a payment using an NFC-enabled device.
P2P (Peer-to-peer) mode
Peer-to-peer mode allows two NFC-enabled devices to communicate with each other to share information and files, so that users of NFC-enabled devices can quickly share contact information and other files with one touch. For example, users can exchange Bluetooth or Wi-Fi connection settings, or exchange data such as virtual business cards or photos.
Read/write mode
Read/Write mode allows NFC-enabled devices to read the information stored in NFC tags (or tags) embedded in smart posters and displays or communicate with another NFC device in read/write mode. The initiating device may read data from or write data to the second device.
Using tags, you can read transport schedules, access special promotional offers, read travel tags and routes, and more.
Active and passive communication
In passive communication mode, there is an initiator device, there is a target device. The initiator produces an electromagnetic field at a carrier frequency of 13.56 MHz, which allows data to be exchanged and sends energy to the target. Next, the initiator sends a command using direct field modulation. The listening device (passive or polling) responds using load modulation. This type of communication is used in all three NFC modes. In passive communication mode, the target device uses the field generated by the initiating device.
Active communication
In active communication mode, each device generates its own electromagnetic field. The initiating device generates an electromagnetic field at a carrier frequency of 13.56 MHz, uses amplitude modulation to send a command, and then disables the field. In response, the target device generates its own electromagnetic field and, modulating it in the same way, sends a response. To avoid collisions, only the sending device emits an electromagnetic field. This type of communication is used only in P2P mode.
NFC tag specifications
An NFC tag is a passive NFC device that supports read/write mode. According to the NFC Forum specification, there are 5 types of NFC tags.
How to enable NFC on your phone
Buying a phone with an NFC module is half the battle. Next, you should know how you can activate the module to perform the necessary operations. Activating this option is very simple. This can be done in two ways:
If your smartphone has an NFC chip, you will need to activate a special application – Android Beam, to enable the function of exchanging data or performing a payment transaction. It can be found in the settings in the "Advanced" tab.
You can also activate NFC through the notification shade
How does NFC work in the phone
The basic principle underlying this technology is radio signal exchange. The same method applies to all wireless modules. The difference between NFC and the rest lies in the distance at which the signal operates – ≥10 cm. Initially, the format was intended as a way to expand the functionality of contactless cards, but due to the wide distribution and popularity, the developers came up with several new ways to use:
The use of a chip that is embedded in a cell phone allows you to book tickets, serves as a way to pay for travel or a parking space, and makes it possible to exercise supervisory access to a certain closed area. The development of technological processes has led to the emergence of plastic cards, inside which there is a wireless communication chip and an integrated antenna, which makes plastic a convenient payment instrument.
One of the commonly used NFC functions is to transfer information between two smartphones. When two devices are in close proximity, the devices are connected under the influence of magnetic field induction, when two frame-type converters form an education device. The NFC module in the phone uses a frequency of 13.5 MHz. At the same time, the speed at which data is exchanged can reach up to 400 Kbps. Each module can work in two modes:
The module itself is a small chip, which when assembled resembles an inductor